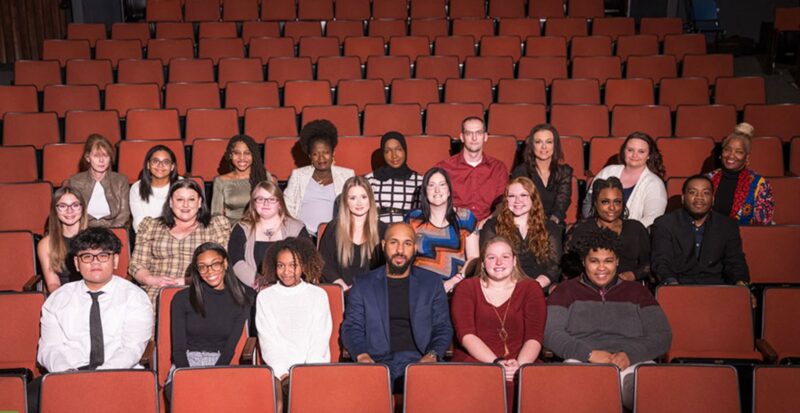 College of Southern Maryland (CSM) students who have chosen to pursue careers in health care were celebrated Jan. 12 at the Health Career Readiness Recognition ceremony. Seventy-three students completed programs to become Certified Nursing and Geriatric Nursing Assistants, Clinical Medical Assistants, Certified Dental Assistants, Phlebotomy Technicians, Nutrition Coaches, Personal Trainers and Paramedics.
"What I love about this recognition event is that it shines the spotlight on the entire healthcare team," said CSM Dean of the School of Science and Health Dr. Laura Polk in her opening remarks. "This is important because each member of the healthcare team plays a unique role in helping clients progress along the wellness continuum. Collaboration in healthcare is best exemplified when every healthcare team member effectively embraces their complimentary role within the team, works cooperatively, shares the responsibility for problem solving, and contributes positively to care,"

Polk also shared the symbolism of items that graduates would receive at the ceremony: Students were given pins as a sign of welcome and acceptance into their professions, and to recognize the hard work it took to complete their education.
Certified Nursing and Geriatric Nursing Assistants
A student who successfully completes this workforce training certificate meets eligibility requirements to become a Certified Nursing Assistant through application to the Maryland Board of Nursing. To obtain a Geriatric Nursing Assistant Certification, students can take the NNAAP Maryland Nurse Aide Examination approved by the Maryland Board of Nursing to obtain their nursing assistant certification. Students can also take the geriatric nursing assistant competency exam.
Students who completed the Certified Nursing and Geriatric Nursing Assistants program were Giselle Ayala Quintero, Lindsey Holland, Brittany Hooker, Denise Proctor, Kassi Welch, Tia Ayers, Erica Brawley, Brittian Burtis, Earlisha Kent, Tamiya Proctor-Bean and Kelly Smith
Clinical Medical Assistants
Certified Clinical Medical Assistants students completed the courses Introduction to Clinical Medical Assisting, Basic Procedures for Medical Assisting, and Advanced Procedures for Medical Assisting. They perform tasks including preparing patients for the doctor, obtaining vital signs, collecting specimens, performing EKGs, and assisting during exams and procedures to name a few.
The students who received their Clinical Medical Assistant pins were, Janna Foster, Aniya Mallette, Amy Ramsey and Yasmeen Urbina
Certified Dental Assistants
Students who have received their Dental Assistant certification qualify to sit for the Dental Assisting National Board Radiation Health and Safety Examination. They are prepared to assist with patient care and with further education can become Registered Dental Hygienists.
Students who completed this program were Shadora Bullock, Noah Moss, Emmama Ritchey, Bailey Sparks, Laura Wright, Isabella Ferrara, Vanessa Jimenez-Ochoa, Rebecca Ladner, Jenna Murphy, Katelynn Proctor, Kamyia Savoy, Alyissa Taylor, Paulina Tippett and Victoria Vaughn.
Phlebotomy
Phlebotomy technicians draw blood from patients or donors. With further training, a technician can become a Medical Laboratory Technician or Technologist. Students who completed this program were Angela Becknauld, Jordyn Powell, Kadiatou Sangare, Miki Steiger and Nicole Yumba.
Nutrition Coaches
Students who studied to be Certified Nutrition Coaches have been prepared to sit for an exam to receive their Certification from the National Academy of Sports Medicine.
The students who completed this program were Uriel Lawrence Acas, Elizabeth Ayers, Kailah Beveridge, Detwone Braden, Keshauna Butler, Cameron Crook-Rosales, Calvin Dukes, Kendall Flerlage, Jordan Harley, Gavin Hayes, Kaylee Howe, Acouyai Jackson, Taylor Jamison, E'mari Johnson, Bonnie Kelly, Peyton Krahling, Thomas Larsen, Savannah McBain, Pershia McKissick, Dylan Miller, Albert North, Hunter Norton, Sydney Oliver, McKayla Parker, Elizabeth Poissant, Denzel Thomas, Tarryn Thomas, Steven Utt and Alaina Wagner.
Personal Trainers
Students who completed their personal training coursework were Matthew Balagtas, Kelvin Ford, Taylor Jamison, Gavin O'Connell and Anthony Valencia.
EMS Paramedic
The Emergency Medical Services – Paramedic certificate program prepares graduates to provide emergency pre-hospital medical care to those who have sustained potentially life-threatening illnesses and injuries. Completion of the Paramedic certificate program qualifies graduates to take the National Registry of Emergency Medical Technician-Paramedic (NREMT-P) examinations or comparable state examinations.
Students who completed the program were Kyle Hayden, Diana Kay, Stephanie Bates, Andrea Bellevou and Sean McKeever.
CSM Executive Director of Workforce Development Kelly Winters shared some advice for students during her closing remarks.

"You must find a way to establish and maintain your own health," said Winters. "Health careers can be exhausting physically and emotionally. In order to be effective in your role, you need to find a way to recharge and care for yourself.
"As you get settled into your new roles, don't get too comfortable," Winters added. "Ask yourself, 'What's next?' You are entering a healthcare field. In case you didn't realize it, that automatically comes with an obligation for continued education. It is through lifelong learning that you will grow both personally and professionally and gain an even greater ability to contribute to quality health care."
Encompassing credit degree programs like Nursing, EMS, Medical Lab Technology, and more, and continuing education workforce training certificates in a variety of specialties like Phlebotomy, CNA/GNA, and ECG/EKG Technicians, the Health Pathway at CSM provides a broad variety of medical training for a number of different careers.
Some types of nurses and therapists can expect to get started on their careers after two years or advance their education with certifications at CSM; medical assistants and phlebotomists can get certified in a matter of weeks or months. Learn more online. To view photos from this event, visit https://csmphoto.zenfolio.com/23hcrr.