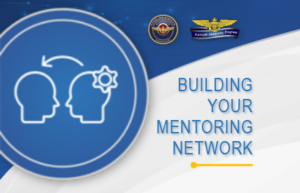 Naval Air Systems Command (NAVAIR) named its 2022 Mentors of the Year as part of its National Mentoring Month observance on Tuesday, January 24. Out of 77 nominations, nine employees received the honor.
Initiated in 2013, to earn a Mentor of the Year award, peers or mentees nominate mentors through a written submission that identifies how the mentor represented leadership, skill, productivity, and improved morale and workforce retention. NAVAIR recognizes mentors for their ability to align their development and mentoring skills with the mission of naval aviation.

In the virtual presentation's opening remarks, NAVAIR Command Operations Group Deputy Director Adrienne Somerville – a 2015 Mentor of the Year awardee – noted the history of mentoring within NAVAIR, with its roots beginning in 2010 before the Mentor of the Year program was created three years later. She congratulated the 77 nominees who "highlight the greatness associated with mentors across naval aviation," she said.
"Mentoring adds such value and richness not only to your job and your contributions as an organizational leader, but your ability to share and transfer knowledge, to ask probing questions, to capitalize on group dynamics and to shape and influence individuals at all levels across the command," Somerville said. "It is an honor and humbling experience to give that knowledge and pay it forward so that each and every individual has access and opportunity for growth."
The keynote address presented by Randy Emelo, mentoring strategist, author, thought leader and founder of CoreConnection LLC., focused on the event's theme, "Building an Effective Mentoring Network."
A 25-year veteran in the field, Emelo spoke about the changes he has seen over the years, as mentoring moved from a more formal traditional meeting-based type of mentoring when a senior employee passes on job and cultural knowledge to a junior employee.
"Today mentoring is more about sharing lived experiences regardless of hierarchy and tenure within the organization," Emelo said. "A lot of mentoring is not happening face-to-face but mediated via technology. It is every bit as meaningful and impactful as traditional mentoring. It has moved from a planned activity to something more conversationally driven with more collaborative learning."
He calls it modern mentoring. According to Emelo, modern mentoring allows one to give-get real time help for critical performance needs. In order to gain fresh perspectives and insights, one should grow their network of collaborative support.
"Most of us need more input in our career development than from a single source," he said. "We have a constant need to engage other practitioners. Modern mentoring is all about developing a collaborative network where you are a giver and a getter."
Emelo describes modern mentoring as both informal and formal.
"When you look at crafting your network, assess how many people you are connected with in an informal way," he said. "While this has always been recognized as highly valuable, you do need formalized mentoring to create more specific definitions of the goal and outcomes of the mentor and mentee."
Emelo described the four types of modern mentoring relationships. Flash: described as having less formality and structure, more spontaneous, short-term and driven by the mentee. Situational: shorter duration range of 30-90 days and focused on a specific learning goal or objective of the mentee. Committed: what most people think of mentoring, a more formal committed relationship that lasts from nine months to many years. Durable: ongoing valuable relationships that can be called upon routinely.
"Mentoring has become a networking activity," Emelo said. "People who are deemed high performers in an organization tend to have eight to15 people who are close confidants that they rely on by sharing issues and advice on an ongoing basis. Anyone highly successful will have one of these networks."
According to Emelo, networks should be vibrant and shaped with learners and advisors from across functions, locations and generations. He advised not to let one's network get "hardened" by working with the same group of limited collaborators over time.
"You want to look at your knowledge ecology of who you are connected with," he said. "Make sure those connections are bright and fresh and are something that is providing new opportunity, challenges and insight that inspire you to reach higher."
Each Mentor of the Year award-winner submitted a video acceptance that was played during the virtual event.
Brian Scolpino, Navy V-22 civilian platform lead in PMA-275 at NAVAIR headquarters, said he has been formally and informally mentoring employees for over 20 years.
"It's my way of helping new employees understand how to do their jobs as well as pursue career paths and career goals they may not necessarily know about," he said. "I had mentors when I first joined NAVAIR over 40 years ago so mentoring others is my way to pay it forward."
Paying it forward was a common theme among the winners.

"None of us come out of college knowing how to be a flight test engineer, let alone what a career in that field looks like," said Lisa Oswald, Maritime Structural Dynamics technical specialist with Naval Air Warfare Center Aircraft Division (NAWCAD), Patuxent River. "I've been blessed throughout my career with mentors that have taught me not only the technical parts of my craft but also why we do what we do. You've got to have people ahead of you that look back and bring you along and teach you what it is they know."
Alana Nunez-Bennett, senior procuring contract specialist team lead for the U.S. Marine Corps Aviation Division at Naval Air Warfare Center Training Systems Division (NAWCTSD), Orlando, thinks the value of mentorship is being able to share your path or story.
"I think mentorship is important because it doesn't only tether us to the organization, it reminds us that we are all constantly learning regardless of what area we are in, how high we are or where we sit within the organization," she said.
Both Clink Batten, Fleet Readiness Center (FRC) Southeast, and Wei-Li Young, Naval Air Warfare Center Weapons Division (NAWCWD), Point Mugu, agree that mentoring provides benefits to both mentors and mentees.
"I've learned so much being a mentor," said Batten. "I have a lot of history but I get to learn the new ways and what everyone is dealing with now. Mentoring helps me as a leader because I can uncandidly hear what's going on and then maybe lean in and help with some things if I can."
"As you mentor others you actually learn from them and that increases your own personal growth," said Young. "Mentoring means that I have something to share with others and that I have insight that people are looking for. Helping people grow and achieve their dreams and goals is the most rewarding part of my job."

The complete list of winners of the national award are listed below:
NAVAIR Headquarters – Brian Scolpino
NAWCAD Patuxent River – Lisa Oswald
NAWCAD Lakehurst – Barbara Cline
NAWCTSD Orlando – Alana Nunez-Bennett
FRC Southeast, Jacksonville – Clint Batten
FRC East, Cherry Point – Nichole Gill
NAWCWD, China Lake – Sandra Scharn-Stevens
NAWCWD Point Mugu – Wei-Li Young
FRC Southwest, North Island – Drew Adams
Mentoring Month is a campaign held each January to promote mentoring in the United States.