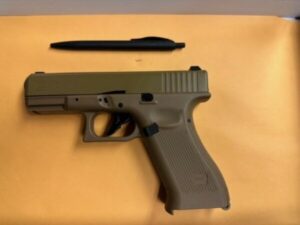 On January 31, 2023, a student at John Hanson Middle School notified school administrators that another juvenile student was possibly in possession of a gun at school.
Administrators located the student and recovered a replica firearm from his backpack, which turned out to be a BB gun. A school resource officer is investigating and the student's parents have been contacted. In accordance with Maryland law, the student will not face criminal charges due to his age; however, the student could face disciplinary action from the Charles County Public Schools (CCPS).
The school resource officer will contact the Department of Juvenile Services about this incident as a matter of recordation and to offer services as needed.
Parents are urged to talk with their children about the dangers of bringing replica firearms, weapons, and drugs to school and the consequences they could face.
Anyone with information about this case is asked to contact M/Cpl. Anderson at 301-609-3282 Ext. 0422.