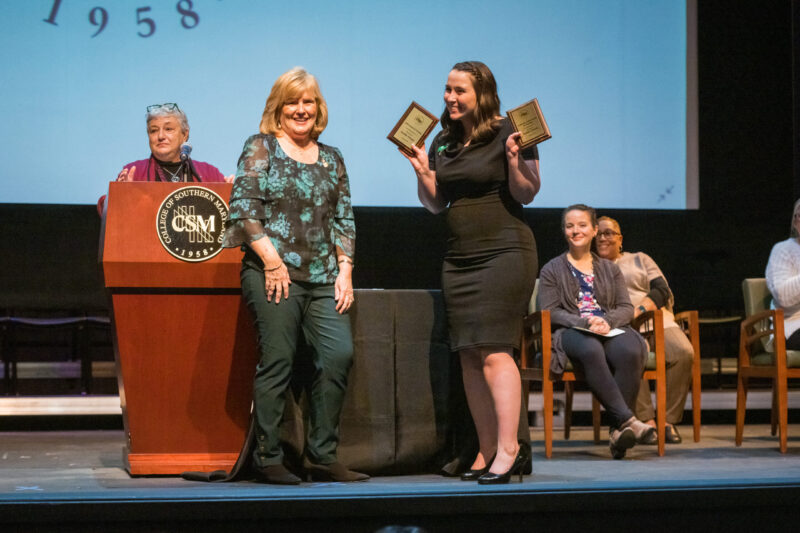 Fifty-seven new nurses received their nursing pins during a Nursing Recognition Ceremony Jan. 12 as part of the College of Southern Maryland (CSM) 2023 Winter Commencement. The graduates chose the Nelson Mandela quote "it always seems impossible until it is done" as their theme, and speakers returned to that idea again and again throughout the ceremony.
Graduating student Brandon McNally offered reflections on behalf of the class, remembering how at times the workload and challenges seemed insurmountable.

"I remember during course issue day; Professor Kennedy was using an analogy of all the assignments we had to complete," said McNally. "He said it was an elephant, and that we should take small bites of the elephant and at some point, the elephant would be eaten. We can all agree that fourth semester was very challenging and at times those bites seemed to be really big. But in the end, we ate the elephant, and we are here now thanks to our amazing professors, family, friends, and peers for supporting us.
"Remember the feeling you are experiencing now of working hard and achieving this goal, which is something that not anyone can do," added McNally, pictured right. "I want you all to feel confident and to hold your head up high because this is just the beginning of our nursing journey and there are so many doors waiting to be opened that will provide us so many opportunities so continue to work hard and be proud of ourselves."
CSM Professor Linda Goodman also referenced the graduates' theme during her opening remarks, offering another Mandela quote for them to reflect on: "After climbing a great hill, one finds that there are many more hills to climb." She told the graduates to commit to a lifetime of learning and growing in their nursing careers.
The traditional pinning ceremony symbolizes a rite of passage into the professional world of nursing and the nurse's commitment to those they care for, shared CSM Nursing Professor Linda Hamel. She said that the origin of the nursing pin dates back 800 years. Modern pinning ceremonies date to the 1860s, when Florence Nightingale was awarded the Red Cross of St. George. To share the honor, Nightingale presented a medal of excellence to her brightest graduates and by 1916, the practice of pinning new graduates was standard throughout the United States.
The history of CSM's nursing pin begins in 1979, when the Associate Degree Nursing Program was established. The pin was redesigned in 2000 when Charles County Community College's name was changed to CSM.
Guest speaker Lindsey McKenzie '19 also offered advice for the graduates. As a graduate of CSM's nursing program who now holds an adjunct faculty position as a CSM clinical instructor, McKenzie shared that she has tried out many specialties in her career. She then reassured the students that it's ok if they're not yet sure what area they want to specialize in.
"That's what I love so much about this profession," she said. "You're not expected to know exactly what you want to do as soon as you've completed the nursing program. I want you to know what you will find what you love, and I hope you don't stop until you do.
"I am proud to welcome you, my newest colleagues, into the nursing profession," McKenzie added. "It is now your turn to make a difference in the lives of so many. Never stop caring and advocating for others, and always strive to learn new things and grow as nurses."
CSM Professor Annette Ragland provided the closing remarks for the ceremony, congratulating the class on their achievements and returning once again to the graduates' chosen theme.
"Your dream may have seemed impossible, but you met and exceeded the standards," Ragland said. "Impossible? Not for you! Always continue to believe that the impossible is possible… Go out there, set your goals, visualize your future, and continue to make the impossible possible."

Students were recognized by faculty pinners Lauren Guy, Eden Kan, Dawn Leukhardt, Robin Madera, Deborah Rutledge and Robin Young.
Nursing students who received their pins include:
Freda Abel
Virginia Lee Allen-Anderson
Ebere Ogechi Amos-Uhegbu
Pamela Veronica Athey
Brandi Avery
Rebecca Baker
Jessica Butler
Shauna Butler
Starlita Butler
Bria Chontia Campbell
Julia Carbo
Nyla Cole
Lauren Susanne Cross
Katlyn Nicole Day
Taylor N. Dillon
Maren Marie Eells
Rachel Marie Farr
Brittany Marie Felton
Whitney L. Freed
Shaylin Gotsis
Lilianna Gusky
Falon Harper
Rachel Harrison
Kallie Hartman
Queenie Clarisse Bautista Hernandez
Skylar Hogan
DeAsia Johnson
Niaya Johnson
Dustin Jones
William Kenney
Katya Leonzo
Sarah Nicole Lewis
Courtney Lillard
Diana Lopez
Elijah Phillips Atienza Mencias
Brandon McNally
Quenlyn Moore
Shanika Moore
Devin Moreland
Sarah Noble
Jordan Osterloh
Kayla Pauley
Marjorie Renea Plaudis
Tiffany Powell
Kelly Rabasco
Elizabeth Tate
Susan Thiongo
Hannah Tucker
Bernalyn Masong Vaznaian
April R. Wheaton
Courtney Wilson
Breanna M. Windsor
Riley Winkler
Catherine Yearick
Alyssa Yost
Kaitlin Zelonis (Zelonis was the recipient of both the School of Science and Health Academic Achievement Award and the School of Science and Health Achievement in Nursing Award. She is pictured below:)
To view and download photos from this Nurse Pinning Ceremony, visit: https://csmphoto.zenfolio.com/23nursing.