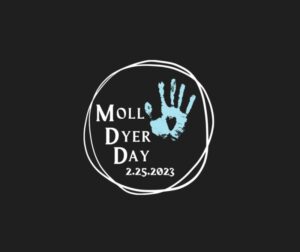 The upcoming Moll Dyer Day event is a three-day celebration of Leonardtown's most famous local legend. No other Leonardtown historical figure has captured the hearts and attention like the legend of Moll Dyer.
An increasing number of guests visit the famed Moll Dyer Rock each year that bears her now fading handprint left that fateful night in 1698 – many leaving little trinkets and gifts by the rock where it sits at Tudor Hall Manor. The ongoing theme of this year's event is "Be Kind".

The Town of Leonardtown invites the community to join in on this commitment to being kind by performing at least one random act of kindness in honor of Moll Dyer Day this week.
Leonardtown Mayor, Dan Burris, who officially proclaimed February 26th as Moll Dyer Day back in 2021 (to be honored annually on the last Saturday in the month of February), returns to the Opening Ceremony at Tudor Hall Manor where the original dedication was made two years ago to commemorate the start of this year's Moll Dyer Day Weekend. Mayor Burris will also proclaim Leonardtown's commitment to kindness and extend the invitation to the community to join in the movement in honor of Moll Dyer.
The ceremony is set to begin at 11 a.m. on the lawn of Tudor Hall Manor, the home of the St. Mary's County Historical Society, at the site of the famed Moll Dyer Rock.
The three day event, which features family-friendly activities to more adult-oriented events throughout Leonardtown, will help raise funds and support for the Historical Society to aid the organization in continuing its mission of preserving the history and culture of St. Mary's County, Maryland including the care and maintenance of Leonardtown's most famous historic item, the Moll Dyer Rock.
To learn more about Moll Dyer Weekend including events and activities, where to stay and the hours for the Leonardtown Trolley visit: VisitLeonardtownMD.com/MollDyerDay or #ltownkindness.