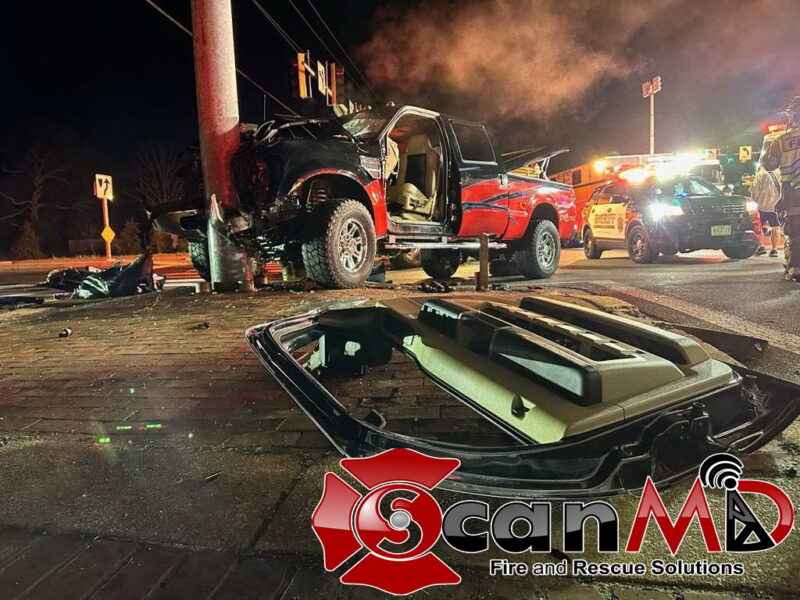 On Tuesday, February 28, 2023, at approximately 8:00 p.m., police, fire and rescue personnel responded to Three Notch Road and St. Andrew's Church Road in California, for the motor vehicle collision reported serious with one trapped.
Crews arrived on the scene to find a single Ford pickup truck off the roadway and into a utility pole with the single occupant pinned and trapped.
Firefighters from Bay District and Hollywood began extrication and requested a helicopter a short time after their arrival.
Due to the victims deteriorating condition, firefighters performed rapid extrication to remove the victim from the vehicle in under 13 minutes.
Maryland State Police Helicopter Trooper 7 was placed on standby. The victim was transported to the St. Mary's County Airport where Trooper 7 transported the victim to an area trauma center with serious injuries.
Police are investigating the single vehicle collision. Medical personnel advised the Trooper flight medics the victim was an adult male who was conscious, combative, and impaired.
As of 9:00 p.m., lanes are still closed for police investigation. Use caution in the area and watch for First Responders.
Updates will be provided when they become available.