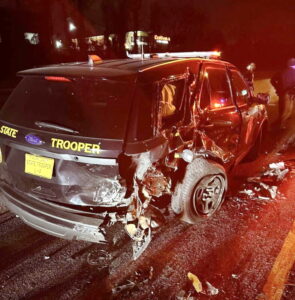 On Friday, February 24, 2023, Tpr. Ware and Tpr. Miller were involved in a three vehicle collision in the area of N/B Capital Beltway at Landover Road in Prince George's County.
"We are truly grateful that all parties involved did not sustain life threatening injuries.
We ask everyone if you see an emergency vehicle in the roadway reduce your speed and switch lanes to avoid any possible collisions.
Move over law not only ensures safety to our Troops but to all traveling on the roadways.
Tpr. Ware and Tpr. Miller we wish you a speedy recovery and are appreciative of your hard work dedication to ensuring safety to all traveling our interstates."