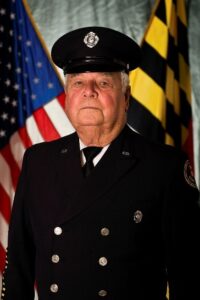 The Officers and Members of the Leonardtown Volunteer Fire Department and its Auxiliary regret to announce the passing of Lifetime Member James F. Miedzinski.
Jim joined the department at the age of fourteen due to the limited manpower available during World War II and has served faithfully for over 75 years.
Services for James F. Miedzinski will be held at the Brinsfield Funeral Home, P.A.
Visitation is on Thursday, March 9th, 2023 from 5:00 PM – 7:00 PM with Fireman's Prayers Thursday, March 9th, 2023 at 7:00PM
Mass of Christian Burial at the St Aloysius Catholic Church on Friday, March 10th, 2023, 10:00 AM
Graveside Service with Military Honors at Charles Memorial Gardens on Friday March 10th, 2023, 26325 Point Lookout Rd Leonardtown, MD 20650
*Any Fire Departments wishing to participate with apparatus please reach out to Fire Chief 1.
Additional information and obituary will be provided when they become available.