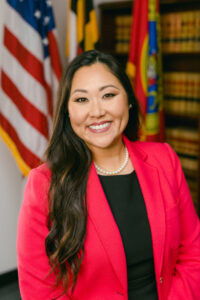 LEONARDTOWN, MD (March 8, 2023) – In her first appearance at a Commissioner Budget Work Session, newly elected State's Attorney for St. Mary's County Jaymi Sterling delivered the message that public safety must be the county's funding priority.
Sterling told the Commissioners that the rise in violent crimes in the county is directly attributable to "drugs and guns." Sterling then detailed her paradigm shift directing the State's Attorney's Office toward vigorous prosecution wherein all cases involving guns will be stepped up to the Circuit Court to be tried by more experienced prosecutors.
Sterling will provide for more focused prosecutions of grievous crimes including sex offense-related cases and those involving children, who are either victims or witnesses, by also bringing them to the Circuit Court.

Sterling said that for crime victims, our job is to help them; "it is the worst day of their lives," and described her mission to mitigate crime using every available approach, from rigorous prosecution policies to technological advancements to having an adequate number of prosecutors.
Sterling presented a budget request detailing essential needs for the State's Attorney's Office to fund technological upgrades, additional attorneys, paralegals, law clerks, and operations. When asked by a commissioner to justify the request, Sterling said, "My sole function is public safety; my sole job is to ensure that we are prosecuting cases."
During the presentation, State's Attorney Sterling also provided information on cost-cutting measures she has undertaken including a legislative request to realign child support services with the state which will save the county at least $300,000 every year.
Describing the constitutional obligations of the Office of the State's Attorney, Sterling said, "I must be mindful of the county's fiscal circumstances and take a hard look at the needs of my office. I was very conservative by asking only for what I needed."
The State's Attorney's funding requests were made during the Commissioner's Budget Work Session Tuesday, May 7, 2023, and can be viewed on the county government YouTube Channel.