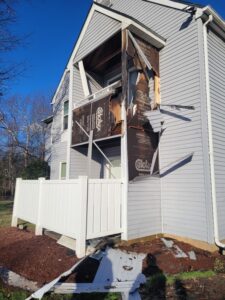 On Tuesday, March 14, 2023, at 6:56 a.m., firefighters responded to 6008 New Forest Court in Waldorf, for the reported apartment fire.
Crews arrived on the scene to find a 2-story apartment complex with fire on the exterior balcony.
Firefighters extinguished the fire in under 10 minutes.
The owner/occupants were identified as Modou Sey & Laura Smith with the estimated loss of structure and contents valued at $2,500.00
Investigation determined the fire started on the balcony with the cause being deemed accidental due to improperly discarded smoking materials on the apartment balcony.
There were no injuries as a result of the fire.
Photo provided by Maryland State Fire Marshal.