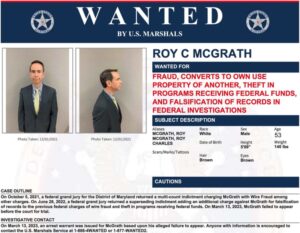 The U.S. Marshals Service has initiated an interstate fugitive investigation. It is now seeking to apprehend the former Maryland governor's top aide after he failed to appear in court on Monday, March 13, 2023.
A federal judge issued an arrest warrant for Roy McGrath, the aide to former Maryland Governor Larry Hogan, due to McGrath failing to appear in court as his trial on federal fraud charges.
McGrath, who moved to Naples, Florida, faces an eight-count federal indictment with charges including wire fraud, fraud and embezzlement charges connected to approximately $170,000 in expenses. McGrath pleaded not guilty during his court appearance in 2021.
McGrath currently faces a maximum sentence of 20 years in federal prison for each of four counts of wire fraud and a maximum of 10 years in federal prison for each of two counts of embezzling funds from an organization receiving more than $10,000 in federal benefits.
Anyone with information on McGrath is urged to contact the nearest U.S. Marshals Service office, at 1-866-4WANTED or USMS Tips at www.usmarshals.gov/tips.
For additional information about the U.S. Marshals Service, visit www.usmarshals.gov