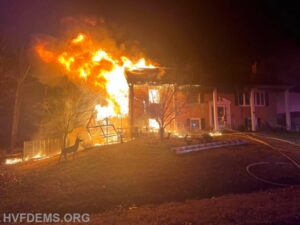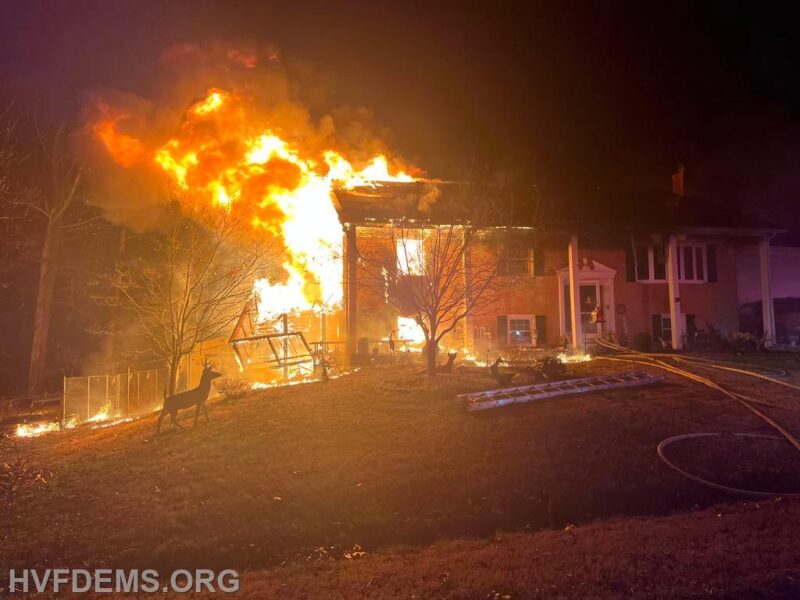 UPDATE 3/17/2023: Investigation determined the fire originated in a first floor storage room and was observed by the homeowner in the area of a stand alone freezer.
The occupant/owners are identified as Paul and Suane Chase with the estimated loss of structure and contents valued at over $200,000.00
The occupant was alerted by the working smoke and fire alarm system in the home. The occupant was able to escape from the home unharmed.
The homeowners are being assisted by family and the American Red Cross at this time.

3/17/2023:
On Thursday, March 16, 2023,  at 11:58 p.m., firefighters from Mechanicsville and Hughesville Volunteer fire departments were dispatched to 30025 Gershwin Road in Mechanicsville, for a automatic fire alarm in a residence.
Immediately after dispatch, the St. Mary's County 911 Center upgraded the assignment to a structure fire.
Mechanicsville Engine 22 and Chief 2 responded with 7 personnel and arrived on the scene in under 5 minutes to find fire showing from a 2-story split foyer residence.
Crews deployed multiple attack lines and entered the structure to find fire throughout the first, second floor and attic/roof.
The fire rapidly progressed and evacuation tones were sounded with orders for all firefighters to exit the structure. Units began defensive operations and once the fire was controlled, units began interior operations again. The fire was controlled in approximately 30 minutes and extinguished within approximately 1 hour and 30 minutes.
Firefighters shuttled approximately 15,000 gallons of water to the scene to extinguish the fire.
The Maryland State Fire Marshal's Office responded to investigate the cause of the fire.
During the fire, Prince George's County Engine Tanker 836 from Baden provided a fill-in.
Updates will be provided when they become available.
All photos are courtesy of the Hughesville, and Mechanicsville Volunteer Fire Departments.