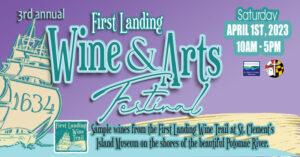 On Saturday, April 1, 2023, from 10 a.m. to 5 p.m., St. Clement's Island Museum will host all four St. Mary's County wineries, as well as local crafters and artisans for the 3rd annual First Landing Wine & Arts Festival.
Community members and visitors are invited to enjoy this full day of fun on the waterfront lawn of the museum.
Attendees can purchase locally grown and produced wine by the glass or bottle from the Port of Leonardtown Winery, Generations Vineyard, Corteau Vineyards, and Xella Winery & Vineyard.
This event also features food trucks, live music, local crafted items and art, activities for kids, and more – right on the scenic shores of the Potomac River. Visitors are encouraged to learn the story of the first landing and the beginnings of Maryland in the museum or to take a water taxi boat ride over to the St. Clement's Island State Park to explore the site where the original "First Landing" took place in 1634.
"We have had an amazing response from the public regarding this event over the last few years, so we decided to make it an annual experience," said Karen Stone, Manager for the St. Mary's County Museum Division. "This year, we are excited to welcome Corteau Vineyards to the event as our fourth winery. Hosting all our First Landing Wine Trail wineries, as well as local artisans, at the location of the original 'First Landing' in 1634, just makes sense!"
Event admission is free for all guests. There will be various costs for wine, food, museum admission, water taxi rides, and vendor purchases. Don't miss your chance to purchase special edition First Landing Wine Trail wine glasses from the museum store as a souvenir!
St. Clement's Island Museum is located at 38370 Point Breeze Road in Colton's Point. Please call (301) 769-2222 or visit Facebook.com/SCIMuseum for more information about this event.