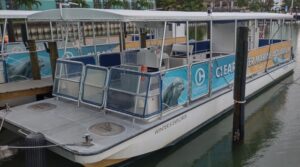 The Commissioners of St. Mary's County are pleased to announce that the St. Mary's County Museum Division has been awarded $219,000 in grant funds by the Maryland Department of Commerce to purchase a new water taxi.
The new water taxi will provide reliable rides for visitors to St. Clement's Island State Park and will be accessible from pier to boat for wheelchairs, walkers, strollers, etc.
The Museum Division is one of nine recipients from across the state, announced by Governor Moore on March 2, 2023. Projects submitted by Historic Sotterley and the Town of Leonardtown were also selected. The Department of Commerce received nearly 30 project applications for this program and anticipates making additional funding announcements in the future.
"Congratulations to our Museum Division, and to our partners at Historic Sotterley and the Town of Leonardtown," said Commissioner President Guy. "These projects will not only support local tourism efforts but will also deliver needed improvements to help us better serve our residents."
"The water taxi is one of our most popular attractions at St. Clement's Island Museum," said Arthur Shepherd, Director of Recreation & Parks. "This funding will help us to ensure that this unique experience is accessible for more residents and visitors."
The St. Clement's Island Museum water taxi resumed seasonal operations on Maryland Day, March 25, 2023. For more information regarding hours of operation, programs, admission prices and more, please visit Museums.StMarysMD.com or Facebook.com/SCIMuseum