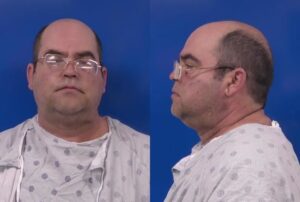 On Tuesday, April 11, 2023, at approximately 8:00 p.m., police and emergency medical personnel responded to the 700 block of Pioneer Trail in Lusby, for a domestic violence incident with injuries.
The suspect was identified Alan Douglas Oberlander, age 48 of Lusby., with 911 callers reporting the female victim ran to the neighbors house was advised she was assaulted. She was observed to be bleeding heavily from the face.
Emergency medical personnel were dispatched and advised to stage in the area.
Officers arrived on the scene to find the male suspect went back inside of the residence, officers advised ems personnel to come to the scene due to the female victim bleeding from the mouth and nose. It is unknown if the victim was transported by EMS.
Deputies attempted to make contact with the male who refused to come out or talk to officers, and then ignored further attempts of contact and turned off the light within the residence.
Oberlander then called 911 and stated he was not coming outside because he was scared of being arrested and made suicidal statements before disconnecting the 911 call.
A barricade situation was then declared. Additional medical personnel were dispatched to stage for police.
The incident ended after several hours and Oberlander was transported to an area hospital for evaluation.
Oberlander is being held without bond and has been charged with Assault First Degree, Assault Second Degree, and Obstruction and Hindering.