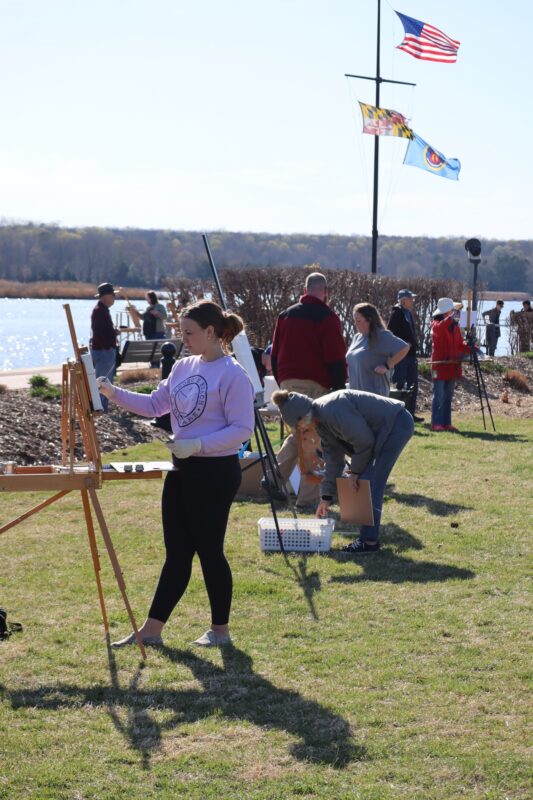 Do you love plein air painting, or have you ever wanted to learn? Then join us for an evening of creativity at the Leonardtown Wharf in celebration of Earth Day on Saturday, April 22, 2023 from 4:30 PM – 7:30 PM.
What better way is there to celebrate than by capturing the beauty of Breton Bay while enjoying the smooth jazz stylings of the GrooveSpan Trio (sponsored by Jimmy Hayden of RE-MAX 100 and Homes from Heroes), sampling award-winning wine from the Port of Leonardtown Winery, organic, plant-based food from Real Food Studio, tasty eats from the Slim Chickens Food Truck, and sweet treats from Frog Town Ice Cream Shop.
If you'd just like to join us and watch the artists in action, feel free to browse, shop, wine and dine with us throughout the evening and marvel at the spectacular sunset on Breton Bay. The evening's activities include the following:
Open Paint for Plein Air Artists: This activity is FREE and open to artists/art enthusiasts of all levels. Bring your easel and supplies and join us for a community paint along at the beautiful Leonardtown Wharf. Artists are welcome to bring a small table to display and sell their work (no fee or commissions).
Registration is not required, but please contact [email protected] to be entered into a gift drawing for your chance to win great prizes (the first 5 registrants to sign up will receive a reserved parking spot at the Wharf for the event).

Community Mural Project:
This FREE activity is hosted by guest artist,
Adrianna Reloba
, and sponsored by the
St. Mary's County Arts Council
. Join Adrianna in creating a colorful mural during the event. The completed mural will be on display outside the St. Mary's County Arts Council Gallery & Gift Shop building on Washington Street during upcoming events throughout the season. Be a part of helping to create a wonderful work of art for the community to enjoy all season long.
Learn to Paint Outdoors: Class: Learn the Basics of Plein Air Painting- FREE (materials and instruction provided)
Learn the basics of plein air painting from Carrie Patterson, professional artist, Professor of Art at St. Mary's College, and owner of the Yellow Line Studio in Leonardtown (sponsored by the Leonardtown Arts & Entertainment District). Registration recommended to guarantee your spot, but walk-ins are welcome.
Registrants will be entered into the gift drawing for a chance to win great prizes (the first 5 registrants to sign up will receive a reserved parking spot at the Wharf for the event). Carrie and her studio will set up your painting station with your easel, paints and all the supplies you need at the Leonardtown Wharf. Learn how to quickly capture the beautiful sunset and make your mark in oil paint. Each participant will leave with their own unique view of Breton Bay. Whether you're new to painting or would like to brush up on your skills, this class is for you.
This special event is part of the Leonardtown Earth Day Celebration. For more information about this event or other exciting events and activities being held in honor of Earth Day visit: VisitLeonardtownMD.com/EarthDay. For more information about this event or to register for the Plein Air event or class go to: VisitLeonardtownMD.com/PleinAirEvents.###