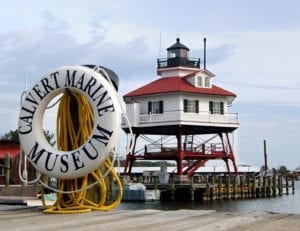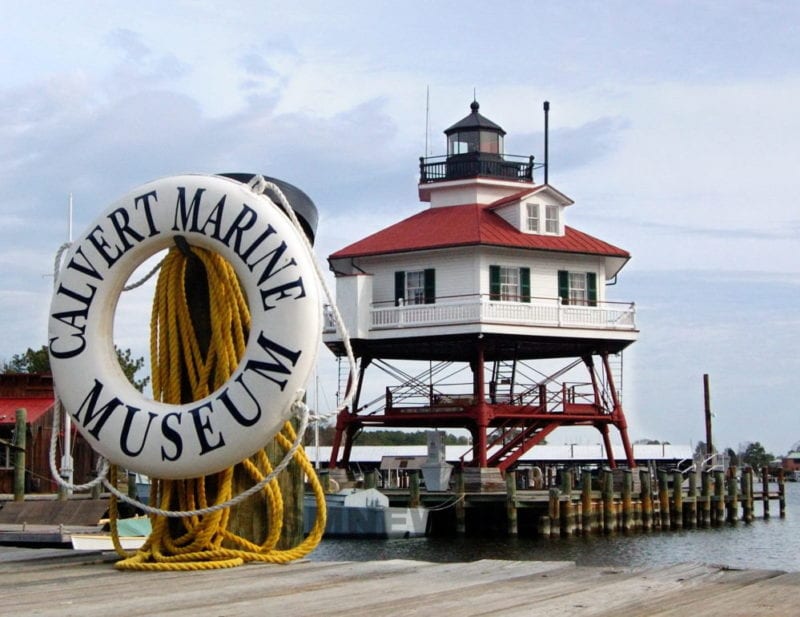 Experience the rich maritime history of the Chesapeake Bay at the Solomons Maritime Festival! Be sure to check out educational programs, special events, and the first Waterside Music Series concert of the season this month! For more information, please visit: www.calvertmarinemuseum.com
Wednesday through Sunday, the month of May – Wm. B. Tennison Public Cruise 2 p.m., Relax and enjoy a leisurely one-hour sightseeing cruise on the river aboard the Wm. B. Tennison, a log-built bugeye. Capacity allows for 40 guests. Cost is $7 for adults and $4.00 for children 5-12 years. Children under 5 ride free when accompanied by a paying adult. For more information and to register visit: Wm. B. Tennison Cruises | Calvert Marine Museum, MD – Official Website
Thursdays, May 4 & 11 – Sea Squirts: Mamas and Babies 10:15 a.m. & 11:15 a.m., Children 18 months to 3 years, with an adult, are invited to discover the museum together through music, stories, and special activities. Join us for story time and a craft, available while supplies last. Sessions are 25-40 minutes. Cost is free with museum admission. Sign up at the Admissions Desk when you arrive. For more information visit: Sea Squirts | Calvert Marine Museum, MD – Official Website  

Friday, May 5 – First Fossil Friday!
1 – 4:30 p.m.,
Fossil hunters, bring your fossil finds from the Calvert Cliffs or other local areas to be identified! This service is provided for free; however, admission fees apply for access to CMM exhibits.
Saturday, May 6 – Solomons Maritime Festival 10 a.m. – 4 p.m., Celebrate Southern Maryland traditions at this FREE festival! Visitors of all ages are invited to join us for exciting activities including, cooking demonstrations, traditional LIVE music, toy boat building, antique boats and motors, plus 30-minute cruises on the Wm. B. Tennison! Food trucks will be on-site. Admission to the festival and the museum is FREE!
Friday, May 12 – Night at the Museum for Friends with Disabilities 5 – 7 p.m., The museum and grounds will be open exclusively for guests with disabilities and their families, friends, or caregivers. This FREE evening of fun is offered through a collaboration with CCPR Therapeutic Recreation Services (TRS). Enjoy the skates and rays, fish, fossils, and maritime history in a relaxed and supportive environment. Learn about river otters and meet Bubbles, our otter mascot.
Explore the Discovery Room, boat basin, and Drum Point Lighthouse. The Museum Store will be open and full of items for all ages and interests. Take a 30-minute cruise on the Wm. B. Tennison at 5 p.m., 5:45 p.m., or 6:30 p.m. A calming room is available. For more information contact Kathleen Porecki. PRE-REGISTRATION IS REQUIRED for each person to ride the Wm. B. Tennison – Call 410-535-1600, ext. 8204 or 8205 to register for a cruise. Pre-registration is encouraged but not required for museum access – Register online at Preregister to access the museum and search for Activity #470773.
Sunday, May 14 – Mother's Day Evening Cruise 4:30 – 6 p.m., Celebrate mom or your "special" someone aboard the Wm. B. Tennison! Relax together and enjoy the sights and sounds of the Solomons Harbor and Patuxent River. Heavy hors d'oeuvre will be served, as well as a special dessert. Guests are welcome to bring their own beverages; water, tea and lemonade will be provided. Cost is $40 for adults, $20 for children ages 5-12, and $10 for children 4 and under. To purchase tickets https://www.calvertmarinemuseum.com/498/Special-Cruises
Thursdays, May 18 & 25 – Little Minnows: Whose My Mama? 10:15 a.m. & 11:15 a.m., For preschoolers ages 3 – 5, with an adult. This program focuses on one of the museum's three themes. Join us for story time and craft, available while supplies last. Sessions are 25-40 minutes. Cost is free with museum admission. Sign up at the Admissions Desk when you arrive. For more information, visit: Little Minnows | Calvert Marine Museum, MD – Official Website  
Saturday, May 20 – CMM Members Save 20% in the Museum Store 10:15 a.m. – 4:45 p.m., CMM members enjoy a 20% discount in the Museum Store today and on the 20th of every month. Purchases can be shipped via USPS, Priority Mail, or held at the store for curbside pickup. For more information, visit: Museum Store | Calvert Marine Museum, MD – Official Website
Friday, May 26 – Waterside Music Series Concert: Dustin Lynch 7 p.m., Country music fans get ready for an unforgettable night of live music with Dustin Lynch and special guests Michael Ray and Avery Anna. Performance is at the CMM's Motto Mortgage Preferred and RE/MAX One Waterside Pavilion starting at 7 p.m.; gates at 5 p.m. with food and beverage vendors onsite. The Calvert Marine Museum and Museum Store close at 3 p.m. for concert preparations. Tickets are online at  Waterside Music Series | Calvert Marine Museum, MD – Official Website beginning April 11 at 10 a.m. EST for CMM members and April 17 at 10 a.m. EST for the general public.
Monday, May 29 – Wm. B. Tennison Holiday Public Cruise 2 p.m., Celebrate Memorial Day with a leisurely one-hour sightseeing cruise on the river aboard the Wm. B. Tennison, a log-built bugeye. Capacity allows for 40 guests. Cost is $7 for adults and $4.00 for children 5-12 years. Children under 5 ride free when accompanied by a paying adult. For more information and to register, visit: Wm. B. Tennison Cruises | Calvert Marine Museum, MD – Official Website