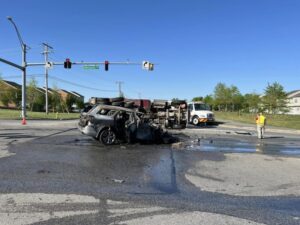 On Tuesday, April 18, 2023, just after 8:00 a.m., police, fire and rescue personnel responded to the intersection of Piney Church Road and Billingsley Road in Waldorf, for a motor vehicle accident involving a large vehicle.
Crews arrived on the scene to find a dump truck overturned and an SUV on fire with multiple patients in the roadway.
Firefighters deployed one attack line and extinguished the fire in under 15 minutes. HAZMAT crews were requested to the scene to assist with offloading fuel and other materials from the overturned dump truck.
Two patients were transported with minor injuries to an are hospital.
All photos are courtesy of the Waldorf Volunteer Fire Department.