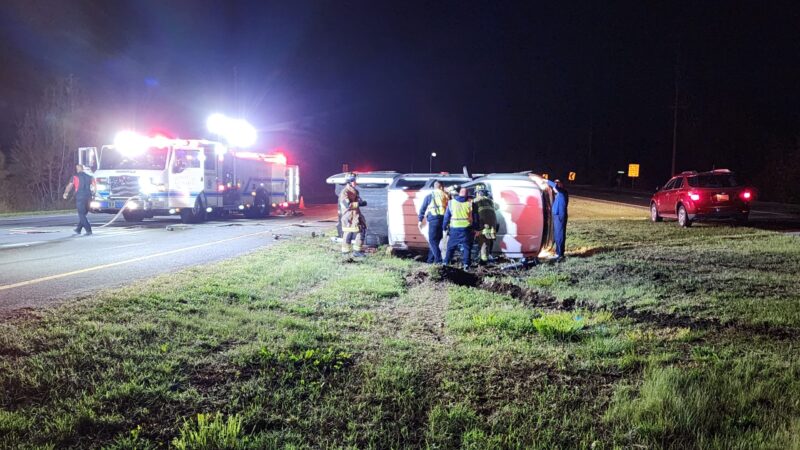 On Tuesday, April 25, 2023, at approximately 10:45 p.m., police, fire and rescue personnel responded to the area of Leonardtown Road and Deborah Drive in Charlotte Hall, for the motor vehicle collision reported serious with one trapped.
Crews arrived on the scene to find a pickup truck overturned in the median with the operator trapped.
Firefighters removed the victim in under 10 minutes and reported the operator appeared to be impaired and requested a duty medic to further evaluate the patient.
The operator, later identified as Sean Fitzpatrick Blandford age 24 of Colonial Beach, Virginia, denied transport and all fire and rescue personnel from Charles and St. Mary's County returned to service, crews turned the scene over to the Charles County Sheriff's Office.
Blandford was administered field sobriety testing and was later arrested on the scene, he has been charged with the following.
FAILURE TO CONTROL VEH. SPEED ON HWY. TO AVOID COLLISION
DRIVING/ATTEMPTING DRIVE MOTOR VEH. ON HWY W/O REQ. LICENSE AND AUTHORIZATION
RECKLESS DRIVING
NEGLIGENT DRIVING
(DRIVING, ATT.TO DRIVE) VEH. WHILE SO FAR IMPAIRED BY (DRUG(S),DRUG(S)& ALCO.)) CANNOT DRIVE SAFELY
(DRIVING, ATTEMPTING TO DRIVE) VEH. WHILE IMPAIRED BY ALCOHOL
(DRIVING, ATTEMPTING TO DRIVE) VEHICLE WHILE UNDER THE INFLUENCE OF ALCOHOL
(DRIVING, ATTEMPTING TO DRIVE) VEHICLE WHILE UNDER THE INFLUENCE OF ALCOHOL PER SE