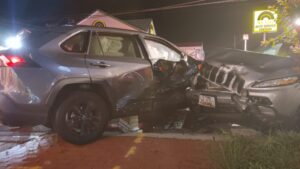 On Sunday, April 30, 2023, at approximately 12:30 a.m., Chief 3B of the Bay District Volunteer Fire Department came upon a motor vehicle collision at North Shangri-La Drive and Great Mills Road.
Two vehicles were located in a T-bone style collision with one occupant in each vehicle and requested emergency medical personnel to evaluate both patients.
Emergency medical personnel obtained care refusal forms from both occupants and no injuries were reported.
Witnesses gave statements to deputies on scene which reported one vehicle ran the flashing red traffic signal. It is unknown if any citations were issued.