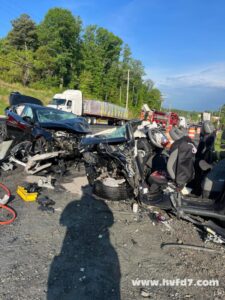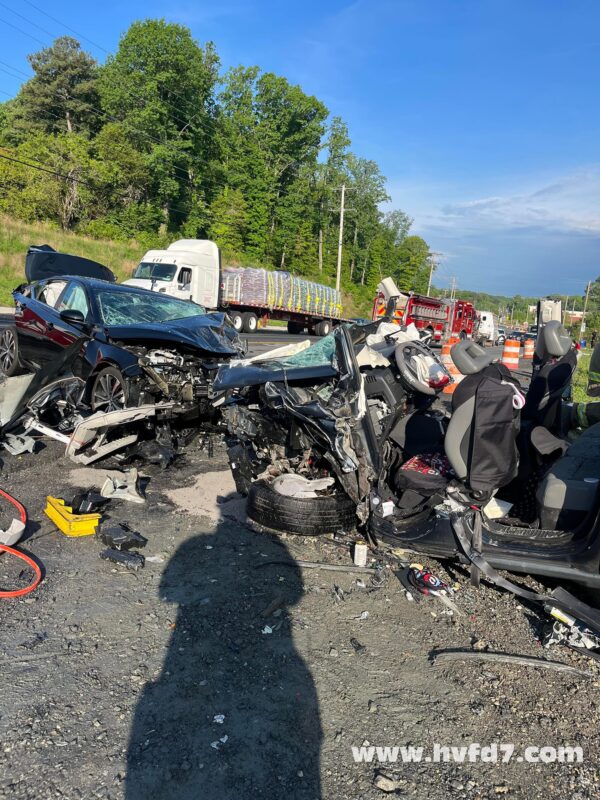 UPDATE 5/9/2023: On Tuesday, May 9, 2023, at 7:39 am, St. Mary's County Sheriff's Office Patrol Deputies were dispatched to a motor vehicle collision at the intersection of Point Lookout Road (Route 5) and Moakley Street in Leonardtown.
Deputies arrived on scene and observed a head-on style motor vehicle collision with one operator unresponsive and trapped.
Due to the severity of the crash, the St. Mary's County Sheriff's Office Collision Reconstruction Unit responded to the scene and continued the investigation.
Preliminary investigation determined that a 2022 Nissan Altima was being operated by Wendy Ricardo Laurent, 28-year-old male of New Hampshire.
Laurent was traveling southbound on Point Lookout Road in the area of Moakley Street when he crossed the center divider line into northbound traffic and struck a 2007 Jeep Patriot, being operated by Matthew Scott Dement, age 48 of Great Mills, head on.
As the Nissan Altima and Jeep Patriot collided, the vehicles began to rotate counterclockwise, at which time the rear of the Altima was struck by a 2020 Ford F-450 with an attached equipment trailer, operated by Justin Dominic Morgan, age 23 of Lexington Park.
Dement was flown to a regional medical center for incapacitating injuries. Laurent was transported to a local hospital, listed in stable condition. Morgan signed a refusal for care at the scene.
At this time, alcohol and/or drugs do not appear to be contributing factors in the crash.
Anyone who may have witnessed the collision or any events leading up to it, and has not already provided a statement, is asked to call Cpl. Brandon Foor at 301-475-4200, ext. 72265 or email [email protected].

5/9/2023:
On Tuesday, May 9, 2023, at approximately 7:40 a.m., police, fire and rescue personnel responded to Point Lookout Road and Moakley Street, for a motor vehicle collision reported serious with one unconscious and one trapped.
Crews arrived on the scene to find a three vehicle collision with one person pinned and one trapped.
Medics requested a Maryland State Police Helicopter to land at the MedStar St. Mary's Hospital.
Rescue Squad 7 and Rescue Squad 1 began extrication utilizing the HURST Jaws of Life to remove the doors and roof to access the patient.
Once patient access was made, the crews utilized spreaders to lift the dash to free the driver and handed to the awaiting medical personnel.
One victim was transported to an area hospital, and one patient was flown to an area trauma center. One signed care refusal forms on the scene.
All photos courtesy of the Hollywood Volunteer Fire Department.
Police are investigating the collision.