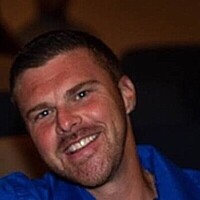 Christopher Brian Corbett, 44, of Leonardtown, MD passed away on May 2, 2023 at MedStar Georgetown University Hospital in Washington D.C., with his loving family at his side.
He was born on August 29, 1978 in Athens, GA to Linda Marie Cheseldine of Leonardtown, MD.
Chris moved to St. Mary's County when he was two years old. He married the love of his life, Tiffany Lynn Bell, on March 18, 2008 in LaPlata, MD and celebrated over 15 wonderful years of marriage.  He enjoyed being with people but especially loved spending time with his family. Trips to celebrate his children's birthdays were a highlight for Chris each year; specifically, their trip to Tennessee.  Chris loved going to the movies, practicing various sports with his children in the backyard, and playing with the beloved family Corgi, "Church."
He was a member of Real Life Church and his strong Christian faith was evident and abundant. The family greatly appreciated the exceptional care, love and support provided by both Medstar St. Mary's Hospital ICU and Medstar Georgetown University Hospital Critical Care 4-2 and 4East ICUs.
In addition to his mother, Linda, and wife, Tiffany, Chris is also survived by his children: Cheyenne C. Corbett (Michael Knott), Trenton T.W. Corbett and Brynn P. Corbett; grandchildren, Michael Knott, Jr. and Ronald Knott; grandmother, Anna B. Cheseldine; his uncle, D. Wayne Cheseldine; cousin, C. Scott Cheseldine; his in-laws, T.W. and Mary F. Bell; and many extended family and friends.
Chris was predeceased by his grandfather, W. Marvin Cheseldine; uncle, William M. "Butch" Cheseldine Jr.; and aunt, Janice M. Cheseldine.
All services will be private.
In lieu of flowers, memorial contributions may be made to Tiffany for the children's college funds.
Condolences to the family may be made at www.brinsfieldfuneral.com.
Arrangements by the Brinsfield Funeral Home, P.A.