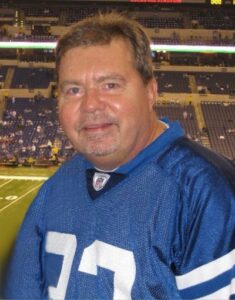 Raymond Edward Nowak, 73, of Lexington Park, MD passed away after a long battle with Parkinson's Disease on April 30, 2023 surrounded by his loving family. He was born on January 18, 1950 in Patuxent River, Maryland to the late Edward Nowak and Laura (Blessing) Nowak.
Ray grew up in Lexington Park, MD. He is a graduate of Little Flower School, Leonard Hall Military Academy, Ryken High School (Class of 1967) and St. Mary's College (Class of 1972). Ray was the first Mathematician Major to graduate from St. Mary's College. After earning his Degree he went on to start his government career for the Department of Defense at the Naval Air Test Center, Computer Science Department where he was part of the F-14 Joint Evaluation Team. This led to a 32-year career supporting aircraft/weapon systems test and analysis. He spent many successful years in the Flight Test Division and decided to shift to the ground test environment supporting laboratory test and evaluation in the Electronic Warfare Integrated Systems Test Laboratory. In 1980, Ray received a Presidential Recognition Award from President Carter for his substantial contribution to more efficient government operations. In 1990 he joined the Air Combat Environment Test and Evaluation Facility (ACETEF) team serving as Division Head of the Simulation and Stimulation Division, where he provided superior technical expertise in building ACETEF to what it is today, a state-of-the-art facility that provides integrated assets, distributed capability and a synthetic battlespace used for all phases of system development. He retired from government service in 2004. Ray made so many wonderful friends throughout his career that became more like family members. Ray married the love of his life, Barbara A. Cook on October 30, 1996 in Negril, Jamaica. They enjoyed their many trips to Jamaica and Hatteras, North Carolina. Ray lived life to the fullest. His interests stretched to many areas with his favorite being spending time with family and friends. He was quite a storyteller. From his early-on teenager days to his 30's he was a rock n roller, playing in local bands such as Grand Slam, Phoenix and Bittersweet. He thoroughly enjoyed entertaining the crowds. Fishing was part of his soul. In 1984, Ray earned his Captain's License from the U.S. Coast Guard and spent over 25 years chartering his boat, as well as Captaining friend's boats to/from Florida and his many offshore deep sea fishing trips. Ray loved his John Deere tractor, his first investment upon retirement. He spent many hours keeping his home in pristine condition. Ray loved woodworking and had exceptional woodworking talents which enabled him to build cabinets, butcher block workbenches, dining room chairs, boat repairs, anything that needed to be done in the workshop, he made it happen. Photography, a hobby since his early college days, led him to open his own Studio (REN Studio) in 2013. As the seasons would change, Ray was always ready for football. He was a fan of the Baltimore Colts and followed them in their move from Baltimore to Indianapolis. He loved his Sunday afternoons watching his team play.
Ray was a loving husband, father, grandfather, and brother. In addition to his beloved wife, he is survived by his daughter, Layla Sitnek (Ric) of Frederick, MD, step-daughters, Robin Cook of Lexington Park, MD and Christy Davis (Darius) of Ridge, MD, granddaughters, Alexis Cook of Lexington Park, MD and Memory Camero of St. Augustine, FL, step-mother, Jackie Nowak of Great Mills, MD, brother, Robert Nowak of Pt. Mugu, CA and sister, Lisa Nowak of Great Mills, MD and many extended family and friends. He was preceded in death by his mother, Laura Blessing Sullivan, father, Edward Martin Nowak and step-father, Jerimiah King Sullivan.
Family will receive friends for Ray's Life Celebration on Friday, May 12, 2023 from 10:00 a.m. to 12:00 p.m. with a Funeral Service at 12:00 p.m., at Brinsfield Funeral Home, P.A., 22955 Hollywood Road, Leonardtown, MD 20650. Interment is private.
Memorial contributions may be made to Lexington Park Volunteer Rescue Squad, P.O. Box 339, Lexington Park, MD 20653. Condolences to the family may be made at www.brinsfieldfuneral.com. Arrangements by the Brinsfield Funeral Home, P.A.