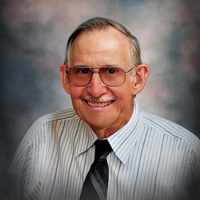 Jennings C. Cross, Jr., 95, of Hughesville, MD passed away peacefully on Tuesday, May 2, 2023, with his loving family by his side.
Jennings was born October 1, 1927 in Aquasco, MD to the late Jennings Columbus Cross, Sr. and Emma May Canter Cross. Jennings grew up working on his family farm helping to raise tobacco and the family vegetable garden.  He was a proud tobacco farmer working hard over many seasons even after he was married and had a family of his own.  As a young man he enjoyed boxing with the Minute Men.  Jennings met the love of his life, Mary Lorraine Gardiner, and they were married on August 30, 1947.  They have spent the last 75 years being "two peas in a pod" and raising a wonderful family of four children, nine grandchildren and 21 great-grandchildren along with many spouses.
Jennings had a natural "green thumb."  He could grow beautiful trees and bushes out of just a small seedling and raised a plentiful garden.  He took great pride in his home and his yard, keeping it immaculate with the help of his John Deere lawn mower.  Jennings was a dedicated worker and worked at Mechanicsville Building Supply for over forty years.  He was a familiar and kind face to all that visited the store, leaving lasting impressions on many.  In his free time, he enjoyed quail hunting alongside his hunting dogs with his sons and grandsons.  More important than anything, Jennings loved to spend time with his family and loving wife, Lorraine.  Over many, many years, you could find them at the dance in Compton on Saturday nights. There they enjoyed spending time with friends and doing one of their favorite things, dancing.  Jennings and Lorraine moved together with such familiarity and grace, impressing anyone lucky enough to catch them on the dance floor.  Their love shown through with each in sync step they took.  One of his favorite songs to dance to was Chicken Fry.  Although he didn't need to be on the dance floor to break out in his famous little jig, it just came natural to him, anywhere and everywhere. He was always kind, fun loving, silly and full of jokes. He was known to throw up his pointer finger as a "thank you", "hello", "how you doing?" or "nice to see you."  Jennings always reminded everyone to "behave yourself" and made sure his family was always safe; insisting everyone call when they got home to let him know they arrived safely.  This was just one example of the fierce love he had for his entire family.  He will be missed immensely but his love and lessons left will be remembered and honored forever.
Jennings is survived by his loving wife, Mary Lorraine Gardiner Cross and their children, Michael Cross, Sr. (Dorothy) of Hughesville, Cindy Morgan (Steve) of Mechanicsville, Barbara Roberts (Mike) of Bryantown, Steve Cross (Sharlene) of Mechanicsville; his grandchildren, Michael, Darryl, Jason, Nick, Christi, Elizabeth, Jessica, Tiffany and Stephen. He is also survived by his 21 great-grandchildren, Vinny, Justin, Gabby, Jamie, Trey, Makayla, T.J., Emily, Luke, Kendall, Wyatt, Ben, Carter, Kenley, Addy, Lydia, Lane, Tyler, Hudson, Sawyer and Ellie.  Jennings is also survived by his sister, M. Virginia Clodfelter of Gaithersburg and brother, B. Ralph Cross of Benedict.
Jennings is predeceased by his parents and his siblings, Stanley Cross, Dorothy Canter, Faye Oliver, M. Lorraine Cross and Raymond Cross.
The family will receive friends on Sunday, May 14, 2023 at Brinsfield Funeral Home & Crematory, P.A., 30195 Three Notch Road, Charlotte Hall, MD 20622, from 3:00 to 6:00 p.m. with prayers being said at 5:00.  Mass of Christian Burial will take place at 10:00 on Monday, May 15, 2023 at St. Mary's Catholic Church, 13715 Notre Dame Place, Bryantown, MD 20617.  Interment will follow at St. Mary's Catholic Church Cemetery.
Serving as pallbearers will be Michael Cross Jr, Darryl Cross, Nick Cross, Jason Roberts, Stephen Cross and Jessica Griffin. Honorary pallbearers will be the rest of Jennings grandchildren and great-grandchildren.
Memorial contributions may be made in "In Memory of Jennings Cross, Jr." to Hughesville Fire Department Engine 21 Refurbish Fund, 15245 Prince Frederick Road, Hughesville, MD  20637 or St. Mary's Catholic Church.
Condolences can be made to the family at www.brinsfieldfuneral.com
Arrangements by Brinsfield Funeral Home & Crematory, P.A., Charlotte Hall, MD.