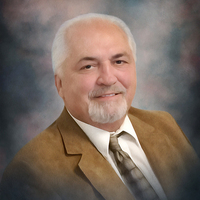 Kenneth James Lindsay, Sr., 71, of Upper Marlboro, MD, peacefully passed away on May 2, 2023, surrounded by loved ones.
On September 15, 1951, Kenneth was born to the late Walter and Estelle Lindsay in Uniontown, PA.
After graduation in 1969, he worked as a union painter for over 27 years and then joined the Bureau of Engraving, followed by time at the National Gallery of Art and Federal Reserve. Kenneth was passionate about his craft and loved what he did for a living.
In 1972, he met his future wife, Elizabeth Lindsay at the Desert Inn. They fell in love and were later married on June 10, 1972. Together, they had three children, Edward Lindsay (Marilyn) of Charles Town, WV, Virginia Lindsay-Jones (Christopher) of Lusby, MD, and Kenneth Lindsay, Jr. who predeceased his father.
Kenneth retired in 2017 after 48 years in the field. Kenneth loved hunting, fishing, archery, traveling out west, motorcycling, DIY projects, and outdoor adventures on his 4-wheeler and his little dog. Most of all though, Kenneth loved to spend time with his family.
Kenneth was predeceased by his parents, his son, his brothers William S. Lindsay and Walter Lindsay II, and his sisters, Dixie Haddad, and Virginia Karas. He is survived by his beloved wife, his two children, and his brothers, Richard Lindsay Jr of Smithfield, PA, and Walter J Lindsay, Jr. of Colonial Beach, VA. He is also survived by his two grandchildren, Kenneth Lindsay III and Mateo Lindsay.
The family will receive friends for the visitation on May 15, 2023, from 5:00 pm to 7:00 pm with prayers starting at 7:00 pm at Brinsfield Funeral Home & Crematory, P.A., 30195 Three Notch Road, Charlotte Hall, MD 20622. A mass of Christian burial will be on the following day, May 16, 2023, at 11:00 am at St. Michael's Catholic Church, 17510 Horsehead Rd, Brandywine, MD 20613. Interment will follow after the service at St. Peter's Church Cemetery, 3320 St. Peters Drive, Waldorf, MD 20601.
In lieu of flowers, please consider a donation to your local Hospice Care Center.
Condolences can be made to the family at www.brinsfieldfuneral.com.
Arrangements by Brinsfield Funeral Home & Crematory, P.A., Charlotte Hall, MD.