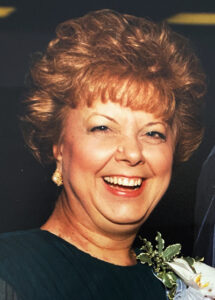 Diane Ruth Townsend (Yonker), of Solomons, MD, passed away on May 7, 2023, at Calvert Health Medical Center, following a long battle with kidney disease. She was born in December 1943 in Philadelphia, PA, daughter of the late William J. Yonker and Doris (Liebert) Yonker. She lived most of her early life in Philadelphia, graduating from Frankford High School in 1961. 
She married her husband, Gene W. Townsend in July 1967, in Moorestown, NJ, while working in a bank. They subsequently moved to Illinois, Missouri, and Virginia in line with his career opportunities. While living in Illinois, she gave birth to twins—David and Susan—who she recalls kept her very busy! In 1977, they settled in Hollywood, MD, where they lived for 45 years before moving to Asbury Solomons retirement community last year. In the course of her work life, she was a secretary at her children's elementary school, and then served in various roles for several federal government contracting firms.
In retirement, she and Gene enjoyed traveling for many months each year. She loved spending time on the beaches of Hawaii and Aruba, as well as in London and the rest of the UK. She was a lifelong fan of British Royal history and was an avid reader, especially historical mysteries and thrillers. She loved gardening, researching ancestry, scrapbooking, playing with her "grand dogs," and shopping. Mostly, she enjoyed spending time with family and friends and was well known for her vibrant laugh.
She is survived by Gene, her loving husband of nearly 56 years and their children David Townsend (Sabrina) and "lovey"—her granddaughter—Abby, of Hollywood, MD; and Susan Townsend Balding (William) of Great Falls, VA. She is also survived by her sons George Steinmetz of Saint Petersburg, FL, and Fred Steinmetz (Terry) and their children of Quakertown, PA.
In addition to her parents, she is also predeceased by her beloved brother, William "Billy" Yonker.
The family will receive friends on Saturday, May 20, from 10:00 to 11:00 a.m. with a Funeral Service at 11:00 a.m., officiated by Reverend Joe Orlando at Brinsfield Funeral Home, P.A., 22955 Hollywood Road, Leonardtown, MD 20650. Interment will be held on Saturday, May 20, at Charles Memorial Gardens, 26325 Point Lookout Rd, Leonardtown, MD 20650.
In lieu of flowers, contributions in memory of Diane may be made to The National Kidney Foundation.
Condolences to the family may be made at www.brinsfieldfuneral.com.