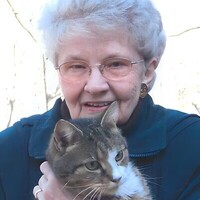 Dorothea "Dotsy" Burroughs Barber, 97, of Stanley, passed away on Friday, May 12, 2023, at Hidden Springs Senior Living in Bentonville, VA.
Dotsy was born on August 12, 1925, in Charlotte Hall, MD, and was the daughter of the late William Woodbury Burroughs and Mabel Elizabeth Wilson Burroughs.
On August 14, 1970, Dotsy married S. Franklin Barber, who passed away on July 22, 2006.
Dotsy is survived by her two daughters, Jeanne Cave and husband J.D. of Stanley, VA, and Ann Cheseldine of Palm Coast, FL; three stepdaughters, Sharon Barber Smith of Cambridge, MD, Kathleen Barber Weaver and husband Michael of Hedgesville, WV, and Judith Barber Tanner and husband Earl Sunderland of Mapleton Depot, PA; daughter-in-law, Karla Brown of Newark, DE.; sister-in-law, Rose Burroughs of Hollywood, MD; seven grandchildren; 12 great-grandchildren; and six great-great-grandchildren. She was preceded in death by son, J. Talley Brown Jr.; two brothers, John Donald Burroughs and Winston W. Burroughs; and sister, Margaret Chenault.
The family will receive friends on Thursday, June 8, 2023 at Brinsfield Funeral Home & Crematory, P.A.,30195 Three Notch Road, Charlotte Hall, Maryland 20622 from 5 to 7 pm. A memorial service will beoffered by Reverend Debbie Kirk on Friday, June 9, 2023 at 12 noon at All Faith Episcopal Church, 38885 New Market Turner Road, Mechanicsville, Maryland 20659. Interment will follow in the Church Cemetery.
Condolences can be made to the family at www.brinsfieldfuneral.com
Arrangements by Brinsfield Funeral Home & Crematory, P.A., Charlotte Hall, MD