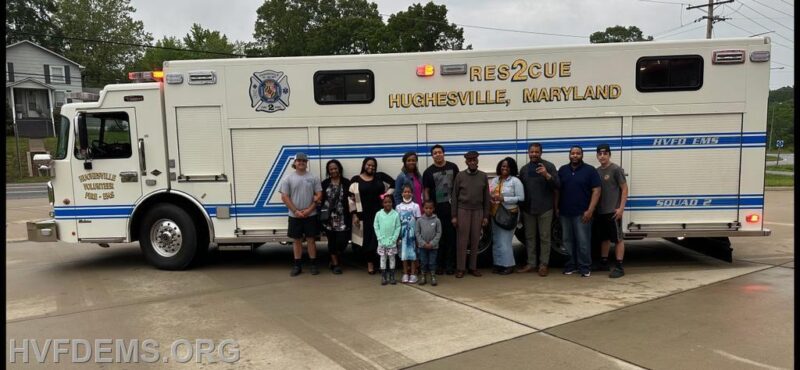 On Thursday, May 4, 2023, Paramedic Ambulance 27 was alerted to Fish Hawk Court for the Unconscious Person. Moments later the call was upgraded for a Subject Not Breathing.
Hughesville VFD&RS responded with Engine 24, Engine 52, Paramedic Ambulance 517, Medic 18, and the North Medical Duty Officer responded.
Engine 24 (FF Jenkins and FF T Bagley) and Paramedic Ambulance 27 (EMT Scarlett & Paramedic Kelshaw) responded.
Upon arrival, units discovered a female subject in cardiac arrest.
Crews began CPR and performed life-saving measures. After several minutes the patient regained a pulse and was transported to Southern Maryland Hospital.
On Sunday, May 14, 2023, the family of the victim came to Hughesville Volunteer Fire Department and Rescue Squad to meet with the members.
The family was happy to inform us that the victim in this case is in stable condition and still recovering in the hospital. The family was gracious enough to bring the members Ledo's Pizza and hang out at the station with the crew. The family took a few pictures with the crew from Engine 24 that responded to the incident.
We wish the victim a speedy recovery and look forward to seeing her back in our community once she recovers.