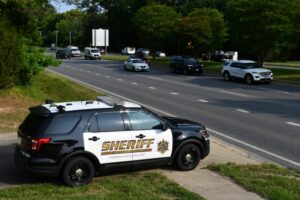 The St. Mary's County Sheriff's Office Traffic Safety Unit continues enforcement action along the Route 235 corridor in California and Lexington Park.
Last week, Sgt. Brian Connelly and Cpl. Kenneth Flerlage provided enforcement during the morning and evening commutes to and from Naval Air Station Patuxent River. Sheriff's Office deputies stopped 38 vehicles for various violations resulting in 23 traffic citations, 29 warnings and seven safety equipment repair orders.
On Saturday, May 20, 2023, Sgt. Connelly and Cpl. Flerlage conducted additional enforcement along the same corridor. Sixteen vehicles were stopped, resulting in 12 citations, 15 warnings and two repair orders. The Traffic Safety Unit also assisted Patrol deputies with three calls for service.
These traffic enforcement initiatives are conducted to improve the safety of drivers along the Route 235 corridor from Route 4 to Great Mills Road during times of increased traffic. On average, there are more than 60,000 vehicles a day on Route 235 in California and Lexington Park, according to the Maryland Department of Transportation.
Sheriff Steve Hall is committed to providing traffic enforcement along Route 235 to ensure a safe and uneventful trip for Patuxent River commuters and local drivers each day.