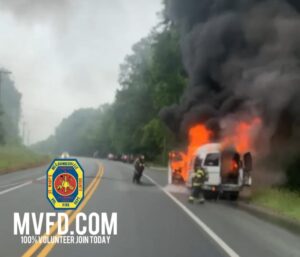 On Monday, May 29, 2023, at approximately 8:05 a.m., police and firefighters responded to the area of Budds Creek Road and Mechanicsville Road in Chaptico, for the reported vehicle on fire.
Mechanicsville Volunteer Fire Department responded with five volunteers on Engine 23 and arrived on the scene to find a van on the shoulder of the roadway fully engulfed in flames.
An ambulance was later requested for the occupant of the van suffering smoke inhalation and burns. The victim later signed care refusal forms on the scene and no injuries were reported.
Deputies from the St. Mary's County Sheriff's Office responded due to the vehicle being in motion at the time of the fire starting.
All photos courtesy of the Mechanicsville Volunteer Fire Department.