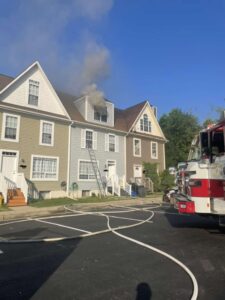 On Wednesday, May 31, 2023, at approximately 6:12 p.m., firefighters from North Beach and surrounding departments responded to 3923 Sea Bass Court in North Beach, for the reported structure fire.
911 callers reported a fire on the 3rd floor with residents attempting to evacuate the surrounding homes.
Crews arrived on the scene to find a 3-story middle of the row townhouse with smoke showing.
The fire was extinguished in under 15 minutes with minor to no extensions found.
Firefighters from Prince George's County, Anne Arundel, and Calvert County responded.
The Maryland State Fire Marshal and American Red Cross was requested to assist.
Firefighters asks to please remember to check your smoke detectors monthly to ensure they are in working condition. Also ensure when charging electronic devices, to not place them on combustible materials.
All photos are courtesy of the North Beach VFD.