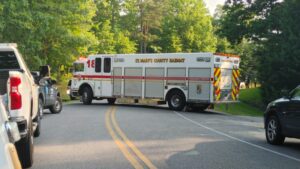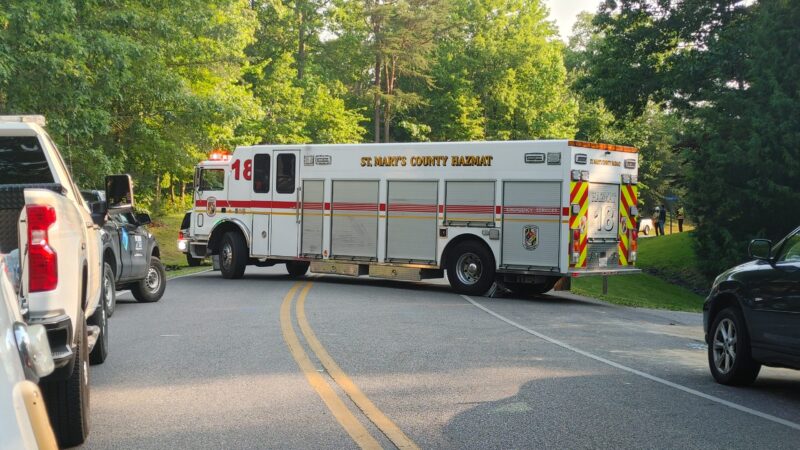 UPDATE @ 8:30 p.m.: Roadway is open with the gas leak secured. Washington Gas remaining on scene.
All residents able to return home are asked to open windows to air out possible gas odors.
6/1/2023 @ 6:30 p.m.: On Thursday, June 1, 2023, around 4:45 p.m., police, fire and rescue personnel responded to the 22000 block of Sycamore Hollow Drive in California, for the Hazardous Materials Emergency.
The 911 caller was a utility company reporting a 4 inch gas line was struck and actively venting.
Firefighters from St. Mary's County, Calvert County, and St. Mary's County Emergency Services responded to the scene and are actively operating on the scene.

Police are assisting with road closures.
As of 6:15 p.m., approximately 100 citizens have been evacuated from their homes. Incident command has requested buses, and the Calvert County Mass Casualty and Rehab unit to assist those displaced.
Sycamore Hollow Drive, Hollyhock Lane, Wintergreen Lane, Wedgewood Lane, Butternut Lane, Ash Wood Lane, and Crimson Lane are closed or being evacuated.
Additional residences in the area have been notified and are ordered to shelter in place. A Code Red and Reverse 911 call has been placed to citizens in the affected area. If you have not received a 911 call or have had firefighters make contact with you, you can just shelter in place.
No injuries reported. Washington Gas is on scene, however, they cannot mitigate the leak at this time.
Incident will be an ongoing event for the next few hours. Incident command reported Comcast was working/digging when the gas line was struck, which is still actively venting as of 6:44 p.m.