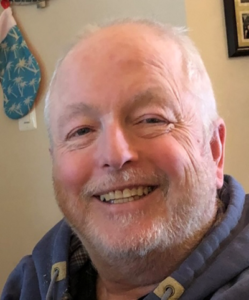 Edward G Lisle, originally of Neptune, NJ passed away on May 22, 2023 of an apparent heart attack.
Ed, or Eddie, as he was known to many of his closest family and friends, was born and raised in Monmouth County and graduated from Neptune High School.
Ed joined the Navy immediately after graduation. During the Vietnam War, he served tours in Vietnam, Japan and Greece before being honorably discharged. Ed also served several tours of duty in peace time, before joining the Navy Reserves. His unit was activated and attached to a Navy Fleet Hospital during Desert Storm, which served as motivation to leave the Navy for good.
Ed had been a Radio Man in the Navy, often commended for his fast and accurate typing speeds. He was an early adopter of technology and computers, always enjoying the newest laser disc players, tvs and sound equipment. After completing a program at Brick Computer SCI Institute, Ed worked in IT in the gaming industry, often traveling to casinos around the country.
Ed loved watching and playing sports, in particular bowling, golf, football and baseball.  He loved the Jets and was a die hard Yankees fan. Ed enjoyed sharpening his skills in bowling leagues and once achieved the near impossible perfect game. His golf game wasn't nearly as good, according to him, but he loved playing anyway.
Ed also loved TV, movies and books, especially Star Trek and Star Wars. He was at his happiest with the remote in his hand and a snack and Diet Pepsi(or maybe a Coors Lite) on the tv tray next to him. Ed had an uncanny ability to recall an actor's previous roles and answer the eternal pre-internet question "where do I know them from?"
Ed was twice married and divorced, joking that while he was a pretty good father, he was a terrible husband. Ed was often joking; he loved to laugh and to make others laugh, though his Howdy Doody references sailed right over the heads of his Gen Z granddaughters.
Ed was a loving and supportive father and grandfather who could always be counted on to bring far too much candy and overly complicated gifts. His generosity may have exceeded sense at times (like the popcorn popper he gave his 6-year-old daughter) but it was always full of love. Before his health declined, he enjoyed taking his granddaughters to their favorite places, Barnes & Noble and McDonald's.
Ed moved to Maryland in 2016 to be closer to his daughter and granddaughters. In 2019, he lost his eyesight due to complications of diabetes and moved to a VA nursing home. Adjusting to blindness and isolation during the Covid 19 Pandemic was challenging, but he enjoyed having food delivered and getting phone calls from friends and family.
Ed is predeceased by his grandparents, Jackie and Chubby Reid, mother Elizabeth Lisle, brother Tim Lisle, and sister, Barbara Sparks. He leaves behind his daughter Amy Foehrkolb, her husband Louie Foehrkolb, granddaughters Sheena and Ruby, brother John Lisle, nieces Suzanne Lisle, Stephanie Lisle and Alicia Marchetti, and nephew Jonathan Lisle.
There will be a graveside service at Arlington National Cemetery, Arlington, VA at a later date.
Condolences to the family may be made at www.brinsfieldfuneral.com.
Arrangements by the Brinsfield Funeral Home, P.A.