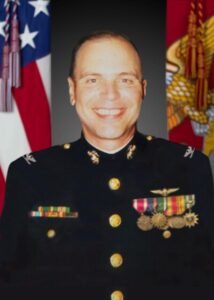 Colonel Michael Alan Nyalko, USMC (Ret), 76 of Leonardtown, MD passed away on May 26, 2023 at his residence with his loving wife, Lisa.
He was born on December 25, 1946 in Monessen, PA to the late Michael Julius Nyalko and Mary (Matty) Nyalko.
He earned the rank of Eagle Scout in 1961. He was an avid outdoorsman – hunted, fished, & trapped in PA at a very young age with his father. He attended Penn State University in State College, PA, graduating in 1968 with a Bachelor of Science in Zoology.
Michael was commissioned as a Marine 2nd Lieutenant upon graduation from Penn State in 1968. He began Naval Aviation Flight Training in Pensacola, FL and received his Wings of Gold in Nov 1969. He joined his 1st "Gun" squadron – Marine Attack Squadron (VMA) 324 flying the A-4E Skyhawk (Attack jet) in Beaufort, SC in Jan/Feb 1970. Mike deployed to the Western Pacific (Westpac) joining Marine Attack Squadron 311 at Da Nang, South Vietnam for a combat tour in Aug 1970. He flew 179 combat missions in the A-4E Skyhawk in support of the Vietnam War. Upon return, he served as a Navy Advanced Flight Training Instructor in Beeville, TX with Training Squadron (VT) 25 from 1971-1973, flying the TA-4 Jet aircraft. In 1974, Michael applied and was selected as one of the first Marines to fly the AV-8A Harrier (USMC Vertical "Jump" Jet) and was assigned to VMA-231 at MCAS, Cherry Point, NC. As VMA-231's Landing Signal Officer (LSO), he completed a Mediterranean cruise with Carrier Air Group (CAG) 19 as part of the Harrier Air Integration trials aboard the USS Roosevelt (CVA-42) from Oct 1976 to May 1977. Mike attended Amphibious Warfare School (AWS) at Marine Corps Base (MCB) Quantico, VA from 1977 – 1978. Upon graduation from AWS, Mike joined the Marine Attack Training Squadron (VMAT) 203 at Cherry Point, NC as a Flight Instructor in Harrier Jets. He was instrumental in training replacement pilots in the Harrier from 1977 – 1980. Michael applied for and was accepted to the Navy's Test Pilot School (TPS) at Patuxent River, MD in 1980 as Class 79. He graduated with distinction following a highly rigorous selection and training program and was selected as the Outstanding Student of his class.
Michael performed development and testing of the AV-8B Harrier from 1980 – 1985. At TPS and throughout his military career, he flew a total of 36 different type/model/series aircraft.
In 1985, Mike deployed overseas to Iwakuni, Japan to join Marine Aircraft Group 15 flying the Navy/Marine Corps F-4 Phantom fighter aircraft. He then attended Military Top-Level School at the Industrial College of the Armed Forces (ICAF) in Washington, DC from 1986 – 1987.
From 1987 – 1998, Michael was assigned to Naval Air Systems Command in Crystal City, VA. He was the first Marine assigned to the A-12 Program, serving as the Integrated Test Team Leader. After the A-12 Program was cancelled, he became the Director of Engineering for the Joint Strike Fighter Program, now named the F-35 Lightning II.
Mike retired from the Marine Corps at the rank of Colonel in 1998. His Decorations, Medals, Badges, and Citations awarded were:
Defense Superior Service Medal, Legion of Merit, Meritorious Service Medal, Air Medal, (Strike/Flight w/13 devices), Navy Commendation Medal w/Combat "V", Joint Meritorious Unit Award, Navy Unit Commendation, Meritorious Unit Commendation (3rd Award), National Defense Service Medal, Vietnam Service Medal, Sea Service Deployment Ribbon (2nd Award), Republic of Vietnam Gallantry Cross Unit Citation, Republic of Vietnam Civil Actions Unit Citation, Republic of Vietnam Campaign Medal.
Mike continued to serve Marine Aviation from 1998 – 2010 as Vice President of Business Development for Rolls Royce (Patuxent River Office). In that capacity, he supported the full product line of Rolls Royce military engine products. Also in that role, he performed leadership and mentoring roles which were instrumental in the technical development of the vertical lift system for the successful production and maintenance of the Joint Strike Fighter.
Michael fully retired in 2010 to become a full-time outdoorsman! Throughout his Military/Civilian career, he continued his love and pursuit of the great outdoors by hunting and fishing, to include trips to Colorado and Alaska to hunt and fly fish with his best friend and Marine brother, John Bioty. His Zoology degree and interest in nature shaped him into a local expert to others. Mike perfected the true artistry of fly tying for fly fishing. He was personally requested on charter fishing trips with his friend, Captain Pete Dahlberg.
During his combat tour in Da Nang, Vietnam, Michael and his squadron were exposed to Agent Orange. Once diagnosed with non-Hodgkin's lymphoma, he enrolled in a trial program at the National Institutes of Health (NIH) as a "patient zero" for experimental treatment. As one of only two patients who survived the initial trial, he paved the way for NIH to further develop the trial into a successful treatment used to this day, now resulting in a five-year US survival rate of 71%. His involvement in these clinical trials were in essence an extension of his military combat service.
Mike continued to thrive through 30+ years of intermittent chemo and a successful stem cell transplant. The stem cell transplant was successful in curing lymphoma. However, the many years of chemotherapy eventually led to a fatal case of leukemia. His experience with cancer motivated his interest in helping others to navigate their treatments. He was always supportive and openly shared his vast knowledge, advice and compassion. He was a member, volunteer and Guide for "Project Healing Waters Fly Fishing, Inc", a non-profit organization that is dedicated to the physical and emotional rehabilitation of disabled active-duty military service personnel and disabled veterans. He was also a member, volunteer and Guide for "Reel Recovery", a non-profit organization that conducts free fly-fishing retreats for men living with all forms of cancer.
On April 27, 2023 Michael received the Marine Corps Aviation Association (MCAA) John Glenn Squadron's inaugural Lifetime Achievement Award.  In the future, this award will be presented as the "Colonel Michael A. Nyalko Lifetime Achievement Award". The MCAA enthusiastically embraced "Iron Mike" Nyalko as their first recipient.
Michael was earmarked as a very specialized, skilled and recognized leader – a one-of-a-kind throughout his life. He was simply a personal and professional role model in every respect to those lucky enough to have served with him or who just knew him as a friend….for his earned friendship is priceless! Michael truly lived his life to the fullest. He will be remembered by generations for the gifts he left behind for all of us. He taught us how to live our lives with love, respect and humility to become better persons…and he taught us to have the courage to die with grace and dignity.
He is survived by his wife Lisa, his son Michael J. and wife Rebekah, his grandsons Michael B. and Nathan, his sister Nancy Guzy, his niece Michelle and husband Art White, his nephew Steven and Jeanne Marie Guzy, sister-in-law Teri and husband Bob McLeod, nephew Patrick McLeod, niece Kimberly McLeod and husband Kevin Faust and a loving mother-in-law Ruthann Pfanneschlag.
The family will receive friends for Michael's Life Celebration on Thursday, June 1, 2023 from 5:00 to 7:00 p.m. with a prayer service at 7:00 p.m., at Brinsfield Funeral Home, P.A., 22955 Hollywood Road, Leonardtown, MD 20650. A funeral service and burial with Military Honors will be held at Arlington National Cemetery at a later date.
Condolences to the family may be made at www.brinsfieldfuneral.com.
Arrangements by the Brinsfield Funeral Home, P.A.