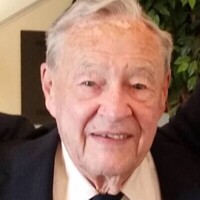 Earl Kenneth "Kenny" Funk, 94, of Hughesville, MD, peacefully passed away on May 23, 2023.
Kenny was born on November 4, 1928, to Earl Funk and Christine Rexroad in Bayard, West Virginia.
After graduation, he worked at Safeway as a produce manager for over 39 years. Kenny was passionate about his work and loved what he did for a living. He also served in the Navy for 5 years and was later honorably discharged in 1952.
Kenny retired in 1990 after 39 years in the field. While retired, he had time to pursue his love of playing keno, visiting McKay's and Food Lion, feeding the cats at the market, and spending time with his beloved dog Parker. He enjoyed spending time with family during family events and never missed an opportunity to socialize with friends.
Kenny was predeceased by his parents, Earl Funk and Christine Rexroad, along with his wife, Jean Davis. He is survived by extended family and friends who loved him dearly.
The family will receive friends on June 4, 2023, from 2:00 pm to 4:00 pm at Brinsfield Funeral Home & Crematory, P.A., 30195 Three Notch Road, Charlotte Hall, MD 20622. Interment will be the following day at 1:00 pm at Maryland Veterans Cemetery, 11301 Crain Highway, Cheltenham, MD 20623.
In lieu of flowers, please consider a donation to Hospice of St. Mary's County or an animal rescue of your choice.
Condolences can be made to the family at www.brinsfieldfuneral.com.
Arrangements by Brinsfield Funeral Home & Crematory, P.A., Charlotte Hall, MD.