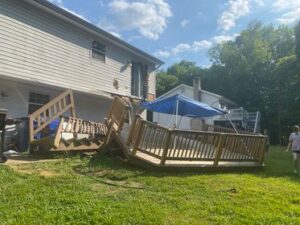 On Sunday, June 4, 2023, at approximately 4:23 p.m., fire and rescue personnel responded to the 12000 block of Wendy Lane in Waldorf, for the reported building collapse with entrapment.
The 911 caller reported the deck collapsed during a graduation party with six victims possibly trapped with the victims ranging from children to elderly. Upon receiving this information, additional medical units were dispatched to respond.
Crews arrived on the scene and reported 8 patients to be evaluated with no entrapment.
Incident command reported 3 victims were transported an area hospital with minor injuries. One patient, an 80-year-old female, was transported by ground to an area trauma center. Two victims were treated and released on the scene, and one patient signed care refusal forms on the scene.
A county building inspector was requested to respond.