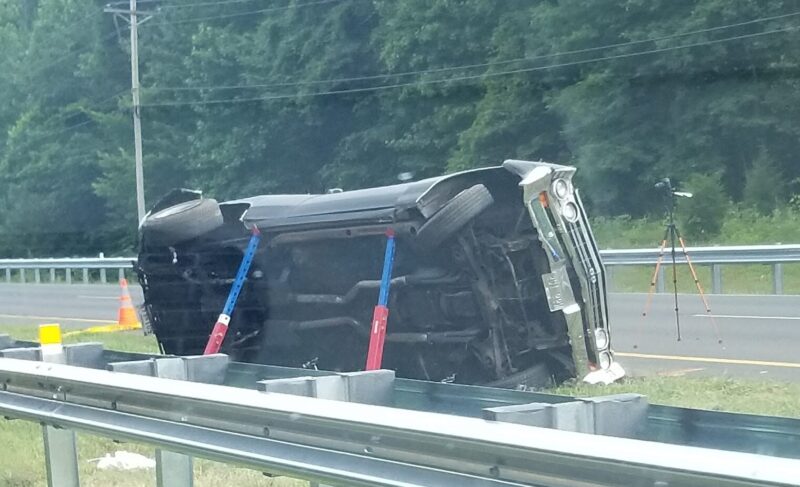 UPDATE 6/18/2023: Maryland State Police are investigating a fatal single-vehicle crash in Calvert County.
The deceased, James Everett Patterson Jr., 56, of Upper Marlboro, Maryland, was pronounced deceased at the scene. He was the driver of a 1967 Chevrolet Chevelle.
A passenger, 48, also of Upper Marlboro, was flown by Maryland State Police Aviation Command to the University of Maryland Capital Region Medical Center for her injuries.
Troopers from the Prince Frederick Barrack responded to the crash, which happened at approximately 2 p.m. on southbound Route 4, south of Westlake Boulevard in Prince Frederick.
According to a preliminary investigation, the Chevrolet was traveling south on Route 4 when it overturned. Investigators believe the driver lost control of the vehicle.
Calvert County Sheriff's Office deputies and personnel from the Maryland Department of Transportation State Highway Administration responded to the scene to assist troopers.
Maryland State Police are continuing to investigate the cause of the crash. Anyone with information related to the crash is asked to contact a duty officer at Prince Frederick. Call 410-535-1400 and reference case number 23-MSP-021758.

6/17/2023:
On Saturday, June 17, 2023, at approximately 1:58 p.m., police, fire and rescue personnel responded to the area of the Prince Frederick Vol. Rescue Squad on Route 4 in Prince Frederick, for a serious motor vehicle collision with one overturned and one occupant unconscious.
Medical personnel arrived on the scene in just seconds and requested a helicopter for a priority victim.
Maryland State Police Helicopter Trooper 7 was pre-launched to land nearby.
Firefighters arrived on the scene to report one vehicle on its side with two trapped.
A short time later, one victim was pronounced deceased on the scene. The second patient was transported to the landing zone where Trooper 7 landed and transported the victim to an area trauma center.
Troopers from the Maryland State Police Prince Frederick Barrack responded and are investigating the collision.
Updates will be provided when they become available.
One lane of traffic is open Northbound and Southbound on RT4 in the area of Old Field lane