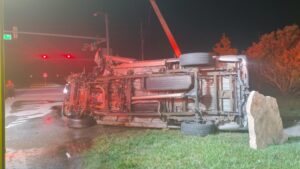 On Sunday, June 25, 2023, at approximately 12:45 a.m., police, fire and rescue personnel responded to the intersection of Chancellors Run Road and Pegg Road in Great Mills, for the motor vehicle collision reported serious with one overturned with possible entrapment.
Crews arrived on the scene to find a single pickup truck off the roadway, into a utility pole and on its side with the single occupant out of the vehicle.
The operator signed care refusal forms on the scene.
No injuries were reported and all fire and rescue personnel returned to service.
SMECO was requested due to the utility pole being completely broken in half.
Deputies from the St. Mary's County Sheriff's Office responded and handled the crash investigation.