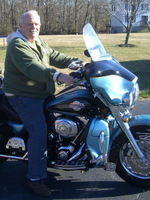 Charles Marcello Buono, Jr., "Charlie", 71, of Leonardtown, MD, formerly of San Diego, CA, passed away on June 19, 2023 at his home. Born on February 3, 1952, he was the son of the late Eva Jewel Sellers and the late Charles Marcello Buono, Sr. Charlie was the loving husband of Mary Susan Buono, whom he married on June 4, 1993 in Las Vegas, NV. In addition to his wife, he is survived by his children Charles Marcello Buono III (Shanann) of Westville, FL, Ronald Lee Spalding Jr. (Mary) of Leonardtown, MD, Melannie Rose Buono (Eugene) of Leonardtown, MD, Mallory Susanne Roche (Sean) of Leonardtown, MD, his sister, Susan Cota of West Monroe, LA, his 11 grandchildren, Jacob, Tristan, Caleb, Dominic, Caroline, Chase, Charles IV, Esmae, Elliana, Gadsden, and Juniper, as well as numerous grand pups; he lived for each of them.
Charlie graduated from Herbert Hoover High School in 1970, and served in the U.S. Air Force for two years. He went on to have a 35-year career as a civil servant. He was an Electronics Technician serving in the Calibration Laboratory for the U.S. Navy with numerous achievements. He spent his career in amazing countries and places, finally meeting the love of his life at NAS Patuxent River.
Charlie enjoyed riding his Harley Davidson and took it on epic adventures; Alaska and Route 66, to name a few. He was well-traveled with 64 cruises and 11 years living abroad, however, nothing compared to being at home with his family.
A Mass of Christian Burial will be celebrated on Friday, June 23, 2023 at 11:00 AM in St. Joseph's Catholic Church, Morganza, MD, with Father Drew Royals officiating.