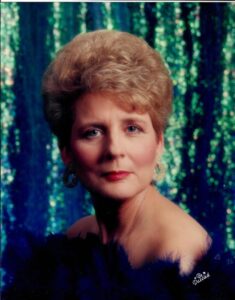 Linda C. Dobson, 81, of Tracy's Landing, MD passed away peacefully with her family by her side on June 20, 2023. She was born on June 4, 1942 in Charlotte, NC to Dallas and Ada Crotts. Her family moved to Deale, Maryland in 1945 and she traveled between Florida and Maryland during her school years. She attended Southern High School, Lothian, MD.
She had many talents that included painting, drawing, sewing, quilting, floral design, and was best known for cake decorating. She had the honor of doing Pat Sajak and Leslie Brown's wedding cake, which was on the cover of People Magazine, along with a birthday cake for Willard Scott. She was a teacher for Wilton Cake Supplies, taught at Anne Arundel Community College, Chesapeake Community College, and South River Evening classes. She was on the board of directors and served as treasurer for the International Cake Exploration Society (ICES) in the 1990's and early 2000's.
She was the first majorette for Deale Volunteer Fire Department where she met a young man, Gene Dobson. They married in April 1959 and just celebrated their 64th wedding anniversary. Together they built a home and raised their children in Tracy's Landing. The two of them along with their son restored a 1955 Chevy 210 which has won several awards. Her highlight was taking her car to the Cruisin' Weekend in Ocean City, MD along with local car shows.
She is survived by her husband, Gene, her son Lance Dobson (Kathy) of Prince Frederick, MD, a daughter Pamela McNally (Craig) of Dunkirk, MD, three granddaughters, Nicole Collins (David) of Millsboro, DE, Ada McCrea, and Victoria McNally, both of Dunkirk, MD, and two great-granddaughters, Teagan and Charlotte Collins of Millsboro, DE.
She was preceded in death by her parents, brothers Perry and Dexter Crotts, and a sister, Florence Todd.
Rausch Funeral Home-Owings
8325 Mt. Harmony Lane
Owings, MD 20736
Services
Thursday, June 29, 2023
11:00 A.M.
Rausch Funeral Home-Owings
8325 Mt. Harmony Lane
Owings, MD 20736
Interment
Southern Memorial Gardens
10155 Ward Road
Dunkirk, MD 20754
Contributions
Hospice of the Chesapeake
90 Ritchie Highway
Pasadena, MD 21122
410-987-2003
First Baptist Church of Deale
5907 Deale Churchton Road
Deale, MD 20751