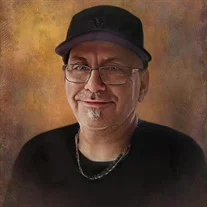 Gregory Keith Roland, 57 of Waldorf, Maryland died on June 21, 2023.
Born October 5, 1965 in Washington, DC to parents, Leslie Floyd "Butch" Roland and Joyce Irene Roland. Greg grew up in Waldorf, MD and graduated from La Plata High School, Class of 1983. He was a former electrician with Local# 26 Union.
Growing up, Greg played many years of little league baseball as a pitcher and had an amazing talent with bowling, where he participated on many leagues, well into his adult years. Greg was well known in these sports because he was left-handed.
Greg will always be remembered for being the "life of the party", life-long and die-hard fan of The Minnesota Vikings football team, a very loyal, loving and caring friend to so many, especially his best friend / "brother" since the early years, Steve.
Greg just had a big heart all around and always looked out for others. There's nothing he wouldn't do to help anyone out, no matter if they were strangers or someone he had known for years.
Greg loved playing online games on his cell phone, scratch offs and pick numbers from the Maryland Lottery. His most played number was his mother's birthdate.
He is Predeceased by both of his parents, his paternal and maternal grandparents, several aunts and uncles and a special friend since childhood, Michael Williams. Survived by his baby sister and confidant, Laurie Ann Plischke, whom they shared a very special bond together; brother-in- law, Lance and niece Jacqueline Plischke, all of Colonial Beach, VA; best friend/brother, Steven Zine; loving and special friend, Sandra Crossley of Waldorf, MD (Greg was Sandy's "nerd"); aunts, Roberta Powell of La Plata, MD and Gladys Archer of Suitland, MD; Jeff Roland (and his family) from Waldorf, MD, many other family and friends.
Viewing at 10am-12pm and service following, at12pm-1pm, July 15, 2023, at Raymond Funeral Service, officiated by long-time family friend, Reverend Randy Randall of La Plata, MD
The family has a special request to anyone attending Greg's viewing. Please, try to incorporate the colors Purple and yellow into your attire.
Either Flowers or donations to LifeStyles of Maryland Foundation, Inc. are appreciated in honor of Greg Roland's memory.
Raymond Funeral Service- 5635 Washington Avenue, La Plata, MD 20646
Lifestyles of Maryland- 101 Catalpa Drive, #103, P.O. Box 1794, La Plata, MD 20646
To send flowers or a memorial gift to the family of Gregory Keith Roland please visit our Sympathy Store.