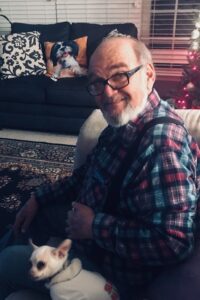 William James Ridgell (Billy Jim) 77 years old passed away July 2, 2023 in Calvert County, Maryland. He was born January 25th,1946 to Joseph (Judge) Ridgell and Elisabeth (Betty) Viant Ridgell who preceded him in death.
Bill is survived by his wife of 52 years, Rebecca (Beckie) Counts Ridgell, his daughter, Amii Jeane Ridgell of California, Maryland, his son, Timothy Shane Ridgell of Lusby, Maryland, and his four grandchildren, Lily Jane, Sadie Bella, Addison Elizabeth, and Benjamin Baker whom he dearly loved. His sister, Elisabeth Joseph (Betty Jo) Hudnall preceded him in death. He also had many nieces and nephews who loved him dearly.
Bill grew up in Point Lookout/Ridge, Maryland where he spent much of his time on the water swimming, boating, fishing, and of course, crabbing. He loved playing his trumpet and because he was an Army Veteran of the Vietnam War, he would often play Taps at other Veterans funerals. He raised his children in Drum Point/Lusby, Maryland, where he worked and owned Ridgell Insurance Agency. He will be missed by many.
A Celebration of Life will be held at Mary's Hope, in St. Inigoes, Maryland on July 13th, 2023 from 2:00 pm to 5:00 pm for friends and family to gather and share stories of Bill and his support of many in the community.
Mary's Hope, 18050 Church Cove Ln, aka Pleasant Plains Ln, St. Inigoes, Maryland 20684