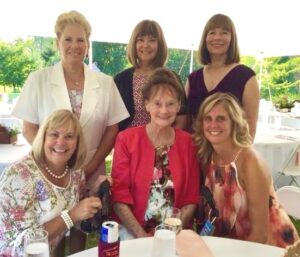 June Kathleen Whittington, 88, of Dunkirk passed away June 29, 2023. She was born September 24, 1934 to George Meade and Marguerite Kathleen (Myers) Barbehenn. June was preceded in death by her husband Charles Arthur "Arky" Whittington. She is survived by her children Sharon Sauvé and her husband Dave, Deborah Kopack, (late husband Dr. Frank Kopack), Lucy Jackson and her husband James, Bonnie Whittington and husband Tom Miller, Virginia Rogers and husband Jim, and son Joseph Whittington. She is also survived by eleven grandchildren and twelve great-grandchildren, siblings George Barbehenn, Jr., Ruth Barbehenn, Vera Hall, and Carol Hill and husband Paul, brother-in-law William Whittington and wife Shirley, sister-in-law Shirley Whittington (late husband Clifton "Boots" Whittington, Jr.), many nieces, nephews and cousins, and by her "companion" Woody.
In lieu of flowers donations in June's memory may be made to Smithville U.M. Church Cemetery Fund, 3005 Ferry Landing Road, Dunkirk, MD 20754.
Smithville United Methodist Church
3005 Ferry Landing Road
Dunkirk, MD 20754
Services
Monday, July 3, 2023
11:00 A.M.
Smithville United Methodist Church
3005 Ferry Landing Road
Dunkirk, MD 20754
Interment
Smithville United Methodist Church Cemetery
Smithville Drive and Ferry Landing Road
Dunkirk, MD 20754
Contributions
Smithville United Methodist Church Cemetery Fund
3005 Ferry Landing Road
Dunkirk, MD 20754