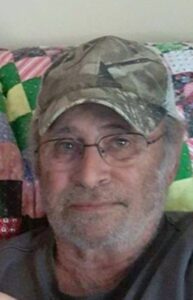 David Arnold Raley, Sr. of Ridge, Maryland passed away peacefully at home surrounded by his wife and children on June 28, 2023, he was 75.
He was born September 11, 1947 in Leonardtown, Maryland to the late Harry C. Raley and Thelma H.  Raley.
Dave grew up in Callaway, Maryland.  He attended Little Flower School and graduated from Great Mills High School.  He would spend his summers at his grandparents farm in Mechanicsville, Maryland helping with the planting and harvesting of their tobacco.  Dave was an avid hunter and fisherman.  He often enjoyed going to Cape Charles and the Oregon Inlet to go fishing with his family and friends.
On May 27, 1967 he married the love of his life Marcia Raley and had two children, always referred to as "the twins".  After high school, Dave started working at the Harry Lundeberg School of Seaman Ship where he learned how to weld and where he got the nick name "Clutch".   Dave began his civil service career in 1973 and worked at Public Works at NAS Pax River as a master welder. He was certified in every type of welding except underwater welding. During the later years of his civil service employment, Dave worked on the Steam Catapult. He went out on the maiden voyage of the USS Lincoln to test the catapult.  It was one of many highlights in his life. After his retirement from civil service in 2003, Dave purchased a tractor and backhoe and set up a company he affectionately named "Have Hoe Will Travel" .
Dave is survived by his beloved wife, Marcia, his daughter Denise (Stephen) of Leonardtown and son David Jr. aka D.J. of Ridge, Maryland, granddaughter, Amanda Shields of Leonardtown and great grandson Erik Schramm also of Leonardtown. Also surviving are siblings, sister Diane Milgrim of Leonardtown; sister Elaine Raley Jessen (Andy) of St. Augustine, Florida; brother, John C. Raley of Leonardtown, as well as many nieces and nephews, great nieces and nephews and a multitude of extended family and friends.  He was predeceased by his parents, Harry C. Raley and Thelma H. Raley as well as his brother, Mark Raley.
The family will receive friends for a Memorial Service at The American Legion Post 255 in Ridge, Maryland on July 23, 2023 from 1:00 pm until 4:00 pm.
In lieu of flowers please send contributions to Hospice of St. Mary's, P.O. Box 625, Leonardtown, MD 20650.
Condolences to the family may be made to www.brinsfieldfuneral.com
Arrangements by the Brinsfield Funeral Home, P.A.