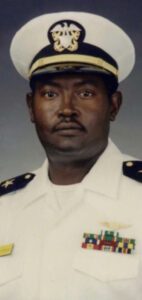 Lieutenant Commander Gary Green USN (Ret.), beloved husband, father, and friend, passed away on Wednesday, June 14th surrounded by his family.
Gary was born to Carrie Bell (Harper) Green and Herron Green on August 28, 1952, in Houston, Texas. Gary spent his childhood years in the tight-knit Acres Homes neighborhood where he learned the value of hard work and community. As a child, he spent much of his time playing basketball and tending to the church with his mother. Upon graduating from George Washington Carver High School in 1971, Gary began his 30 years of dedicated service to the U.S. Navy. Joining the Navy set Gary on the path that led him to Greece, where he met Diane Ferne Hansen on the island of Crete. The two were married on August 16, 1974. Gary and Diane became parents to Angela and Michael in 1977 and 1978, respectively.  After many happy years in Virginia, Gary's professional assignments took the family to Bermuda, Hawaii, and, finally, Patuxent River, Maryland, where he ended his honorable military service and retired in September 2001.
While Gary earned numerous accolades and titles in his Naval career, the most distinguished title would be the one he got from his grandchildren, Kiana Palin (25) and  Xavier Green (10), the title of Poppi. Poppi was a pillar of unwavering support and unconditional love to his Bird and X-man. Years apart, he shared his deep love for the craft of fishing with both grandchildren, and his awe and admiration of Kiana and Xavier was unmatched.
Gary Green was a loving man with a soul of integrity, generosity, and kindness. Gary was a Dallas Cowboys enthusiast and Michael Jordan superfan. An avid sports card-collector, Gary spent hundreds of hours studying and organizing the thousands of cards in his prized collection. Although Gary was a man of few words, his actions spoke volumes. He never turned down an opportunity to help someone in need. Gary was a treasured family man and friend, and he will be deeply missed by all who knew him.
Gary Green leaves to cherish his memory, his wife of 48 years Diane, one daughter, Angela (Travis, US Army, ret.); one son, Michael (Constance); two grandchildren, Kiana and Xavier; along with extended family and friends. A very special thank you to Tony and Elizabeth Sweeny, Brandon and Hailey Stephan, and Crystal Moreland for your love, support, and friendship.
A celebration of his well-lived life will be held at Arlington National Cemetery, located in Virginia, at a later date.
Arrangements by the Brinsfield Funeral Home, P.A.