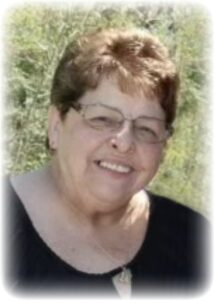 Margaret "Peggy" Marie Simmons, 79 of Lusby, MD (formerly of Chaptico and Leonardtown, MD) passed away on July 14, 2023 at her home.
She was born on May 6, 1944 in Meadeville, PA to the late Carl Joseph Hubert and Garnet E. Wilshire Hubert.
Peggy moved to Southern Maryland in 1972. She attended John Hanson High School in Oxon Hill, MD. She was often complimented on her beautiful penmanship and received many awards throughout her school years. She earned her cosmetology license and owned and operated Chaptico Hill Hair Company for many years.  Later in life, she worked for Unique Chic in Charlotte Hall and California, MD. She really enjoyed summertime and eating hard crabs. She was talented and made many different types of crafts, from Christmas ornaments to dolls and dollhouses. She also crocheted personalized blankets for each one of her grandchildren. Peggy also crocheted and donated hats and blankets to local hospital nurseries.
She is survived by her children: Randolph "Randy" Eugene Payne, Sr. of Mechanicsville, MD; Lorie Jean Burch (Darryl) of Mechanicsville, MD, and Marsha Lynn Fleegle (Rodney) of St. Leonard, MD; sister, Barbara Ellen Drew (John) of Ormond Beach, FL; grandchildren: Mindy Stefano, Randy Payne Jr., Stephanie Jo Nelson, Rodney Guy Fleegle, Jr., Brent Latham, Amanda Jo Fringer, and Taylor Swann; 16 great grandchildren; 1 great-great grandchild; her godson, Wayne Spencer Owens of Port Tobacco, MD; and extended family and friends. In addition to her parents, she was preceded in death by her siblings: Donald Joseph Hubert, Carol Ann Smith, Phyllis Jean Noll, and Nancy Owens.
All services will be private.
Condolences to the family may be made at www.brinsfieldfuneral.com.
Arrangements by the Brinsfield Funeral Home, P.A.