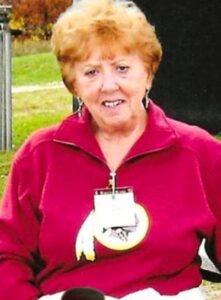 Jackolyn (Jackie) Alden Solomon of Lexington Park, Maryland passed away peacefully at Hospice House, surrounded by her family on July 15, 2023, she was 83.
Jackolyn was born on September 5, 1939 in Brockton, Massachusetts, and was later adopted by the late Richard and Charlotte Snooks.
Jackie grew up in East Bridgewater, Massachusetts and graduated from East Bridgewater High School. After graduation she moved to Virginia and took a civil service job at the Washington Navy Yard. It was then that she reconnected with an old friend from Massachusetts that had joined the Navy and was stationed nearby, Dick Solomon. They were married a year later on August 22, 1958.
They lived the Navy life for many years and raised two children. Jackie eventually settled in as a loan officer at Cedar Point Federal Credit Union.
Jackie was a loving wife, mother and Grammie. She had many dear friends and she was fiercely loyal and loving to all that were lucky enough to know her. Jackie's passions were her family, especially her grandkids and the Redskins.
In addition to her husband, Richard (Dick) Solomon Sr, she is survived by her daughter Cinde Lucas (Edward) of Saint Leonard, her son Richard (Rick) Solomon Jr of Lexington Park and her grandchildren Zachary Solomon, Casey Solomon-Morris (Cody) and Benjamin Solomon, as well as extended family and friends.
Family will receive friends for Jackolyn's Life Celebration on Monday, July 24, 2023 from 10:00 a.m. to 11:00 a.m., with a Service celebrated at 11:00 a.m., at Brinsfield Funeral Home, 22955 Hollywood Road, Leonardtown, MD 20650. Interment will be private.
Condolences to the family may be made at www.brinsfieldfuneral.com.
Arrangements by the Brinsfield Funeral Home, P.A.