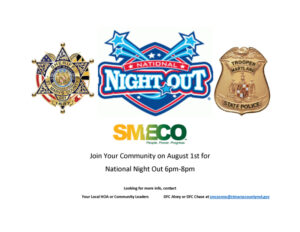 National Night Out (NNO) is an annual community-building campaign that promotes police-community partnerships and neighborhood camaraderie to make our neighborhoods safer, more caring places to live.
National Night Out enhances the relationship between neighbors and law enforcement while bringing back a true sense of community and by bringing police and neighbors together under positive circumstances.
Want to join in the celebration? The following local communities will be celebrating National Night Out on Tuesday, August 1, 2023, from 6 – 8 p.m. in partnership with the St. Mary's County Sheriff's Office:
St. Mary's Landing
Cecil's Mill
Wildewood Community
Birch Way
Laurel Glen
Leonard's Freehold
St. Joseph's Community
Hollywood Shores
Cedar Cove
Westbury
South Essex
Patuxent Homes
Leonard's Grant
Wicomico Shores
St James Neighborhood
Joy Chapel Estates
Green Brier
Bay Ridge
Hickory Hills
Lexington Village
Golden Beach
Breton Bay
Villages of Leonardtown
Myrtle Point
Town Creek
Meadows of Town Run
Rosecroft
"National Night Out is an annual opportunity for neighbors to spend some time together and get to know one another. This relationship building allows for shared visions, concerns, and solutions to be discussed," said Sheriff Steve Hall. "Paired with local law enforcement, this galvanized relationship has been one the most effective tools in the crime fighting toolbox. We look forward to seeing all the members of our community come together in an effort to build community and prevent crime in our neighborhoods."
"We are thankful to our partners in local law enforcement for their efforts to serve, protect, and engage the community," said Commissioner President Randy Guy. "We hope all participating communities have a fun National Night Out!"
Does your neighborhood want to participate? Deadline to register is July 27, 2023. Contact the St. Mary's County Sheriff's Office with additional inquiries via email to either: [email protected] or [email protected].
Millions of neighbors take part in National Night Out across thousands of communities from all fifty states, U.S. territories and military bases worldwide on the first Tuesday in August. Neighborhoods host block parties, festivals, parades, cookouts and various other community events with safety demonstrations, seminars, youth events, visits from emergency personnel, exhibits and much, much more. Learn more about NNO at: https://natw.org