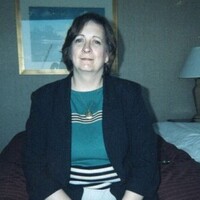 Nancy Katherine Meade, 67, of Lexington Park, MD, peacefully passed away at home with her family by her side on Wednesday, July 26, 2023.
Nancy was born June 1, 1956, in Kirkwood, MS, to David Howard and Ellen Elizabeth Claxton. Her family moved dozens of times, but Nancy always considered Philadelphia to be her hometown. Nancy attended Virginian Tech University, achieving a bachelor's degree in English, and was a member of The Daughters of the American Revolution.
Along with her husband, James, Nancy is survived by her two children, Justin Keys of California, MD, and Sarah (Michael) Jazwiecki of Hollywood, MD; as well as her four grandchildren, Jaxon, Noah and Gabriella, and Michael Keys. She is also survived by her brother Roger Claxton (Suzanne) of Floyd, VA. Nancy is predeceased by her parents and brother Geoffrey David Claxton.
Nancy had many loves, but none greater than her family, especially her children, grandchildren and husband. She was exceptionally proud of her children and all that they had achieved. Nancy took every opportunity to discover her family's genealogy and meet with distant relatives. She loved to travel, having visited all 50 states of our great nation, with a special appreciation for the history of our National Parks.
While a private person, she seemed to make friends wherever she went with her infectious personality, and especially came to life on the dance floor where she met her husband. Nancy was a true friend and a great mentor to so many people. Her words of wisdom will always be remembered, and her life lessons will never be forgotten.
Nancy had a true passion and love for arts and crafts, especially scrapbooking. She enjoyed spending countless hours with her closest friends, creating handmade crafts for her family and friends, capturing their most precious moments. She was an avid animal lover and had an absolute love for dogs, as well as horses which she used to ride in her younger years; we know that this love and compassion will follow her for eternity.
The family will receive friends and relatives at Saint Andrew's Episcopal Church, 44078 St. Andrews's Church Road, California, MD, 20619, on Tuesday, August 1, 2023, from 10:00 a.m. to 11:00 a.m. There will be a service immediately following beginning at 11:00 a.m. Nancy will be buried with her parents, at a private ceremony in Christiansburg, VA.
In lieu of flowers, donations can be made to the Animal Adoption & Resource Center, 22975 FDR Blvd, California, MD, 20619, in Nancy's name.
Condolences can be made to the family at www.brinsfieldfuneral.com.
Arrangements by Brinsfield Funeral Home, P.A., Leonardtown, MD