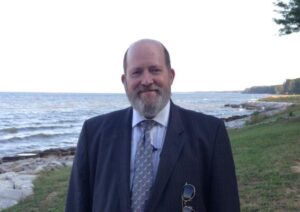 John Stephen Moore, LCDR, USN, RET, known affectionately as "Tex", passed away on July 24, 2023, at his home in Lexington Park, Maryland. Born in Houston, Texas, on March 18, 1954, he became a beloved brother to Darrell, Sidney, and Warren Struss when Elmer married Frances Pryor Moore in 1965, forming a close-knit family that supported and cherished each other throughout their lives.
John's remarkable journey began in Eagle Lake, Texas, where he attended middle and junior high school and ultimately excelled at Rice Consolidated High School. Graduating with the highest of honors as Valedictorian in 1972. John's thirst for knowledge and academic excellence was evident early on. During his last two years in high school, he attended a prestigious Science Institute at the University of Idaho, in Moscow, Idaho during the summers, further fueling his passion for learning.
In pursuit of his dreams, John was nominated and appointed to the United States Naval Academy by Congressman J. J. "Jake" Pickle from Texas. Arriving at the Naval Academy wearing his iconic cowboy hat, he quickly earned the nickname "Tex," which would accompany him throughout his illustrious military career. Graduating with almost straight A's and an impressive 4.0 average in Nuclear Engineering, John's dedication and commitment to his studies were evident throughout his time at the Academy, an outstanding academic record.
With unwavering devotion to his country, John embarked on a remarkable 20-year career in the United States Navy. He proudly served his country in various locations, including San Diego, Hawaii, Norfolk, Virginia, and ultimately at the prestigious Pentagon in Washington, D.C. Throughout his military career, John exemplified discipline, honor, and dedication, earning the respect and admiration of his colleagues and superiors alike.
John's commitment to service remained unwavering even after retiring from active duty. He continued to serve his country in a civil position at the Pentagon, applying his expertise and passion for his work to contribute to the nation's defense and security.
His loving parents preceded John in death, leaving behind cherished memories and a legacy of unwavering devotion to family and country. He is survived by his three brothers, Darrell Struss and wife Monique of Houston, Texas, Sidney Struss and wife Barbara of Georgetown, Texas, and Warren Struss and wife Colleen of Fredericksburg, Texas, with whom he shared a profound bond of brotherhood and camaraderie.
John Stephen Moore's legacy is etched in the annals of history as that of a true patriot, a brilliant mind, and a caring brother. His unwavering dedication to his country and commitment to excellence in every endeavor has left an indelible mark on all who knew him. As we bid farewell to this extraordinary man, we find solace in the knowledge that his memory will forever live on in the hearts of those he touched.
Beyond his military achievements, John's role as a caring and devoted brother was equally profound. The bond he shared with his brothers, Darrell, Sidney, and Warren, was one of unbreakable camaraderie and unconditional love. In times of joy and hardship, they stood together, a pillar of support for one another, forming a family that epitomized unity and strength.
As the nation mourns the loss of this exceptional individual, we are called to honor John's memory by emulating the same spirit of service and commitment that defined his remarkable life. Let us remember him not only as a man of unwavering dedication to his country but also as a beacon of inspiration and compassion. His legacy of excellence will continue to motivate us, urging us to reach for the stars, strive for greatness, and to approach every challenge with courage and resilience.
Rest in peace, dear Tex. Your memory will forever be etched in the hearts of those you touched, and your legacy of dedication, integrity, and brilliance will continue to inspire generations to come. As we mourn your passing, we find comfort in the knowledge that your spirit will live on, guiding us in our pursuit of a better world. Thank you for your service, wisdom, and unwavering love for family and country. May your soul find eternal peace, and may we carry your legacy forward with pride and honor.
Condolences to the family may be made at www.brinsfieldfuneral.com. Arrangements by the Brinsfield Funeral Home, P.A.